The feel and appearance of your bedroom can have a telling impact on your emotions, mood, and productivity. A little retail therapy has been known to lift your spirits and make you feel better, so why not kill two birds with one stone and splurge on these 6 decor items that are known to liven up a room?
Lamp
Lamps are more significant than any other decor item in setting a mood and environment. Table lights are excellent for defining practical zones within a room and emphasizing the emotional impact of certain areas. They are good for adding color to a dull room and complementing your aesthetic.
Led Lights
Depending on how they are placed, LED lights can give your room whatever feel you are going for. The colors change and some of these lights are even reactive to sound
Rug
From hiding an ugly floor to setting up a comfy corner space so you can read or watch movies on the floor, you can never go wrong with a colorful vintage rug.
Full body mirror
Those full body mirror selfies that show off your outfit are about to go crazy. Prepare to spend between 100 to 150 Ghana Cedis on a stylish or antique full length mirror
Clothing rack
Clothing racks are excellent from decluttering your space and giving your room and easy flow and more space. You can get them on Jumia or in any mall close to you.
Wall Art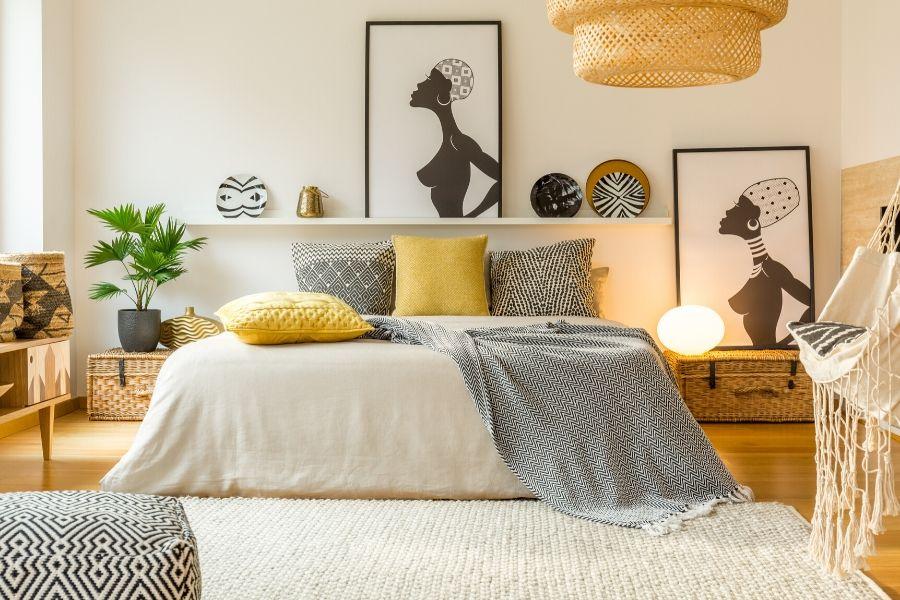 Nothing says cultured than a stunning piece of wall art. It can be generic or specifically hand made to suit your art tastes but they are sure to make your bedroom look a lot better.
Source: Kuulpeeps.com