Growing up, we heard the stories of owls, the rare magical birds that live deep in the forest.
Very few people have been ever lucky to see one and today that villages, towns and cities are ever-expanding sightings of them have become rarer by the day.
Well, now we have a definitive photograph of this rather elusive bird and if you are into birdwatching, then this is for you.
The owl in question is a Shelley's Eagle Owl—an animal desperately sought after by birdwatchers since reports of sightings have often been unconfirmed.
No such confirmed reports have emerged from Ghana since the 1870s when it was first described, and only glimpses have been caught elsewhere, according to Imperial College London (ICL).
This changed last week, when two researchers snapped a crystal-clear shot of the bird perched on a branch in Ghana's Atewa forest.
It was found by Joseph Tobias from the Department of Life Sciences at ICL and Robert Williams, a freelance ecologist.
"There is no other owl in Africa's rainforests that big," said Tobias in a press release, adding that the two researchers' jaws dropped when they lifted their binoculars to spot the elusive owl.
Luckily they gathered themselves together in time to take a photo, since the bird took off a mere 10 to 15 seconds later.
It shows the bird with its head rotated around 180 degrees, appearing to look directly at the camera. The photo can be seen below.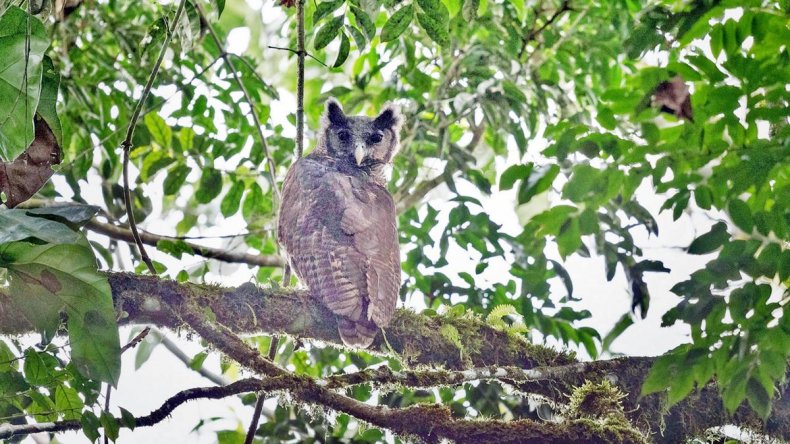 The clarity of the photo is significant according to ICL. It described a previous image, taken in 1975 at Antwerp zoo, as "grainy," and another "from Congo in 2005 as certainly not the right species."
Other times people claim to have seen or heard a Shelley's Eagle Owl in various locations across Africa, but these reports tend to be unconfirmed, ICL added.
The bird is one of the most poorly known owls in Africa. Its ecology and behaviour, for example, are largely unknown according to Bird Life International.
Source: Kuulpeeps.com//Newsweek
Click on the comment box below and leave us your thoughts. Thank you