David Adjaye has been presented with the 2021 Royal Gold Medal for Architecture at a ceremony in Accra, watched by a global audience online.
The medal was presented by Iain Walker, the British High Commissioner to Ghana, on behalf of the Queen at the British High Commission in Accra.
Four presidents, three Pritzker Prize winners, two Gold Medallists and a rock star were among those who paid tribute to the Ghanaian-British architect, the first black recipient of the award and, at 54, the youngest since Patty Hopkins in 1994.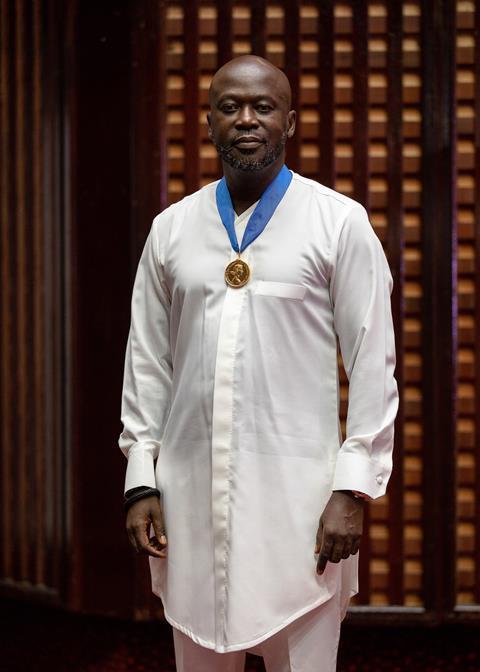 Former South African President, Thabo Mbeki, whose presidential library and archive Adjaye Associates is designing, expressed great pride that "a venerable British institution, the RIBA which is more than 170 years old, is for the very first time recognising a fellow African as an outstanding architect."
Ghanaian president Nana Addo Dankwa Akufo-Addo, who commissioned Adjaye to design the nation's new cathedral which is currently on site, said the achievement brought "renown and glory to this country".
Paul Kagame of Rwanda described Adjaye's work as strikingly beautiful and expressed his hope the country would work with him on a "landmark project."
And Barack Obama, who described the experience of stepping inside the Smithsonian National Museum of African American History and Culture in Washington DC (2016) as "genius, pure and simple," predicted "the best is yet to come."
Bono, the lead singer of U2, quoted his own lyrics, "If there is a dark / Now we shouldn't doubt / And there is a light / Don't let it go out" and said he could have written them for Adjaye, with whom he collaborated on the Aids charity Project Red.
"This great man, his work, however dark some of the themes, just seems to be shot through with light," he said.
Others offering their congratulations included last year's winners Yvonne Farrell and Shelley McNamara of Grafton who described his work as "masterful" and their fellow Pritzker Prize winners Eduardo Souto de Moura and Balkrishna Doshi who praised the way Adjaye connects his architecture with his heritage, culture and psychology.
Everyday people have also been celebrating him.
He is the first black person to win the prize, which launched in 1848. Previous winners of the Gold Medal include Frank Gehry, Sir Giles Gilbert Scott, I M Pei, Le Corbusier and Sir Richard Rogers.
Source: Kuulpeeps.com/bdonline
Click on the comment box below and leave us your thoughts. Thank you