The coronavirus vaccine developed by the University of Oxford is highly effective at stopping people developing Covid-19 symptoms, a large trial shows.
Interim data suggests 70% protection, but the researchers say the figure may be as high as 90% by tweaking the dose.
The results will be seen as a triumph, but comes after Pfizer and Moderna vaccines showed 95% protection.
However, the Oxford jab is far cheaper, and is easier to store and get to every corner of the world than the other two.
So the vaccine will play a significant role in tackling the pandemic, if it is approved for use by regulators.
The UK government has pre-ordered 100 million doses of the Oxford vaccine, and AstraZeneca says it will make three billion doses for the world next year.
In the UK there are four million doses of the Oxford vaccine ready to go. But nothing can happen until the vaccine has been approved by regulators who will assess the vaccine's safety, effectiveness, and that it is manufactured to high standard. This process will happen in the coming weeks.
How does it work?
It uses a completely different approach to the vaccines from Pfizer and Moderna, which inject part of the virus's genetic code into patients.
The Oxford vaccine is a genetically modified common cold virus that used to infect chimpanzees.
It has been altered to stop it causing an infection in people and to carry the blueprints for part of the coronavirus, known as the spike protein.
Once these blueprints are inside the body they start producing the coronavirus' spike protein, which the immune system recognizes as a threat and tries to squash it.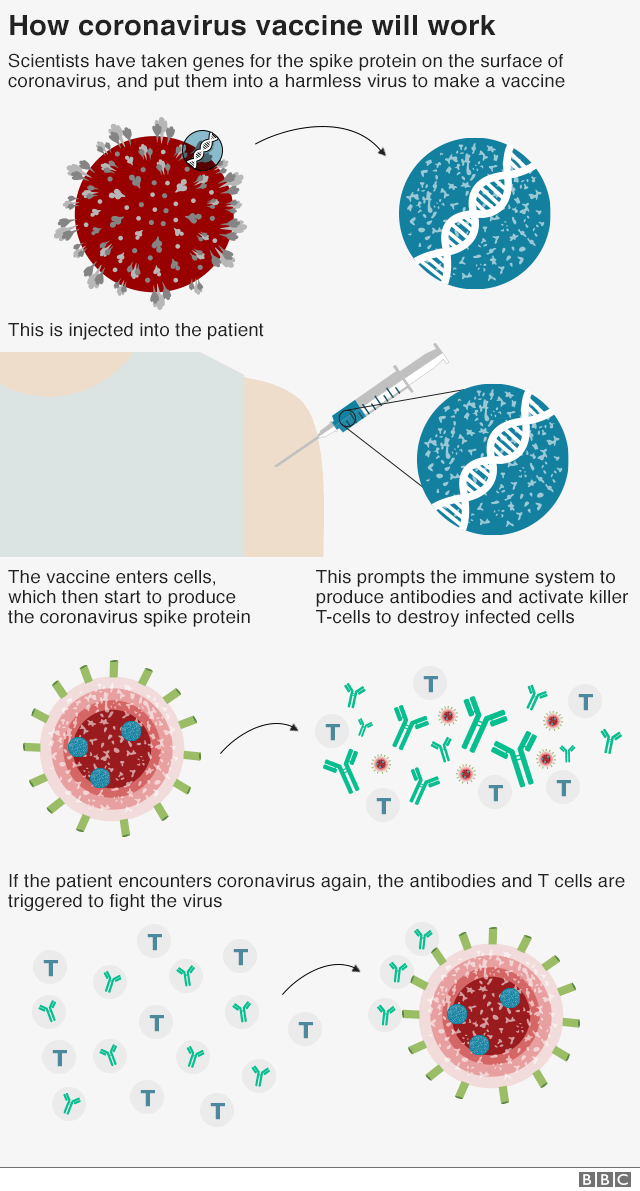 When the immune system comes into contact with the virus for real, it will know what to do.
Source: BBC||Kuulpeeps.com
Click on the comment box below and leave us your thoughts. Thank you