Davido is a serial hitmaker. From the time we were jamming to Dami Duro till now, the artiste has done nothing but serve us with back to back hit songs. There have been criticisms about his music but one thing we can all agree on is that, no matter what you say about Davido's songs, in 3 to 5 business days, you wouldn't be able to get it out of your head and everywhere you pass, you'd hear it playing!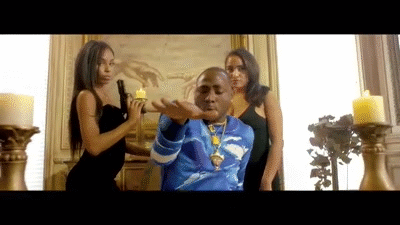 Davido just dropped his A Better Time album and fans think he's done a great job. After listening to the project, these are the songs I hundred percent expect to go viral soon.
Serious bangers.
FEM
This song is already a hit now. It was even used during the End SARS protests like a lowkey anthem because of the message in the song. The funny thing is, many people criticised the song when it first dropped, I included, but when I heard it on the album, I just thought "what a jam!" The intro is what gets me…the production with what may or may not be flutes is just amazing.
I'm sorry for any FEM slander I may have said.
Something Fishy
My personal jam!!! Lol it's not a brilliantly written song but it's got everything for a viral hit: A fun hook and lyrics that immediately latch unto your brain and refuse to let go. I've had the most random moments just shouting "wait…something fishy going down." I hope some kind of challenge comes out of this song…it's just right.
Jowo
The song starts like it's going to be a super soft song but the beats kick in and it suddenly hits you that this song is going to join "IF" and "Fall" as official wedding songs.
Very Special
I can just sense this song becoming another wedding entrance jam. I can even hear it being played in pubs and clubs with half-drunk people shouting the lyrics like their lives depend on it.
Tanana ft Tiwa Savage
With the way legwork has become an essential dance move for every occasion, Tanana has the potential to easily blow. Personally, I was only feeling Tiwa Savage's smooth slide over the song and hearing her sing made me realize it's not just about legwork…the waist break dancers will have a thrill with this song. I'm here for those smooth fluid waist movements to this song honestly.
Holy Ground ft Nicki Minaj
I imagine when Davido performs this song, once he gets to the part where he sings "Brother, I call her sister too" he'd stop and allow the crowd sing that part. Nicki's verse also just screams to be used in a lot of makeup TikTok. Barbz…do it for us?
Not to say the others aren't jams. Special shoutout to The Best featuring Mayorkun which can easily become another hit off the album because it's good. Mebe can become a GH viral jam just because I've seen many Ghanaians praising Mugeez for his addition to the song. The SA house genres on the album too are really good…Heaven has a special place on my playlists.
Get the project on all streaming platforms here: A Good Time
Source: Kuulpeeps
Click on the comment box below and leave us your thoughts. Thank you