We have emphasized the importance of protective styling over and over again. Protective styling gives the ends of our hair a break from nasty weather conditions. These styles tuck away our delicate ends and usually group the strands together. If your hair keeps breaking, you may want to take a break from handling it and just put in in protective styles like braids.
Before you get your braids done, it's important that you prep your hair properly so they don't break off when being braided.
1. Hot Oil Treatment
The hot oil treatment is very important because it helps you detangle your hair properly. The oil coats the strands of your hair making it easy to separate the strands and detangle the hair easily with your fingers. Some other benefits of hot oil treatments include increased hair strength, reduced dryness of both the scalp and the hair, dandruff relief, less frizz and flyaways, and fewer split ends.
2. Cleanse your hair
You need to wash your hair thoroughly to clean all the build up in your hair. Plus you really don't want your hairstylist to see all the gunk and products in your hair. Don't forget to use a sulfate-free shampoo.
3. Deep Condition
There is a debate on how long you should deep condition your hair with some people encouraging leaving the conditioner overnight or for hours and others saying 30 minutes to 1 hour tops. I say do what the owners of the product say you should do. Most of the times they advice 30 – 45 minutes. Deep conditioning helps improve your hair's moisture content and keeps it hydrated. Deep-conditioners contain humectants that draw moisture to your hair shaft, reducing damage and breakage.
4. Detangle
And I mean, properly detangle your hair; not finger detangling. I found this out the hard way. When you go to the hairstylist, they'll have to separate your hair and comb it out before braiding. You may want to make it easier for them and your scalp if you do the majority of the detangling job. Avoid the pain, the extra time, and the possible breakage by detangling your hair yourself. Also, hair that has been thoroughly detangled prior to installation will be easier to detangle again during takedown.
5. Stretch the hair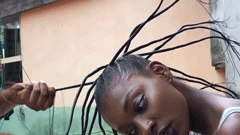 Put your hair into a style that will stretch it out until you braid it like banding or African threading. This will decrease the chances of stray hair strands tangling while you're wearing the style, as well as make it easier to comb your hair after you take out the extensions.
Source: kuulpeeps.com
Click on the comment box below and leave us your thoughts. Thank you