The number one way to save food that's about to go bad is to find a great way to prepare it and quickly. Bake or blend them into something, or prepare a casserole and add heat to give food a second life. When we cook things, we are altering their chemistry. Cooking can give your food a new life. (Source: groomandstyle.com)
Overly ripe bananas are prime for making good banana bread. That's not all, though. You can use Zucchini, sweet potatoes, carrots, and spinach to make quick bread as well in your own home bread maker.
2. Blend it into a Smoothie
Wilted spinach is still good for something, if not salads. Blend it up into a smoothie along with some of those overripe fruits. While the added sugar that these fruits accrue as they become overripe can make them unappetizing as standalone snacks, they are sure to make a delicious smoothie.
3. Make DIY Vegetable Stock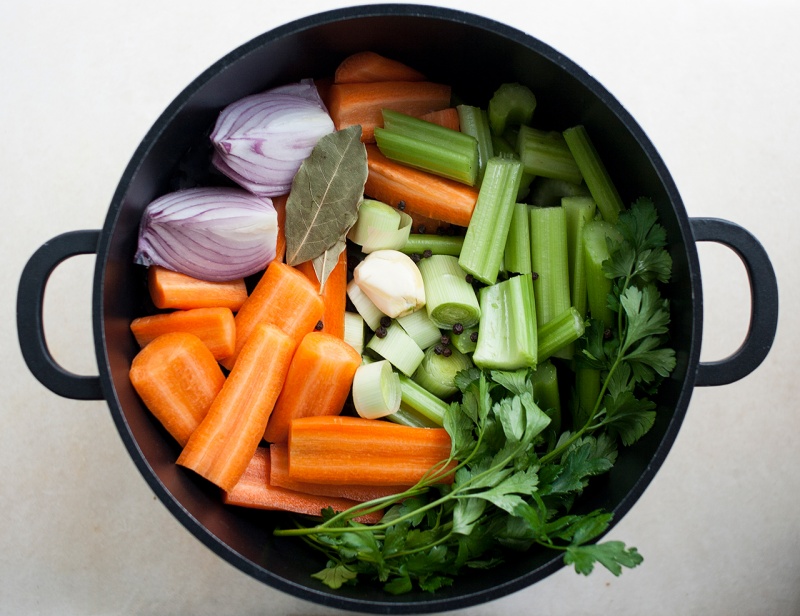 During soup season, it can be more expensive to constantly purchase your vegetable stock, when you can easily make it at home from assorted vegetables in your fridge that are close to turning.
4. Preserve Herbs by Freezing Them in Olive Oil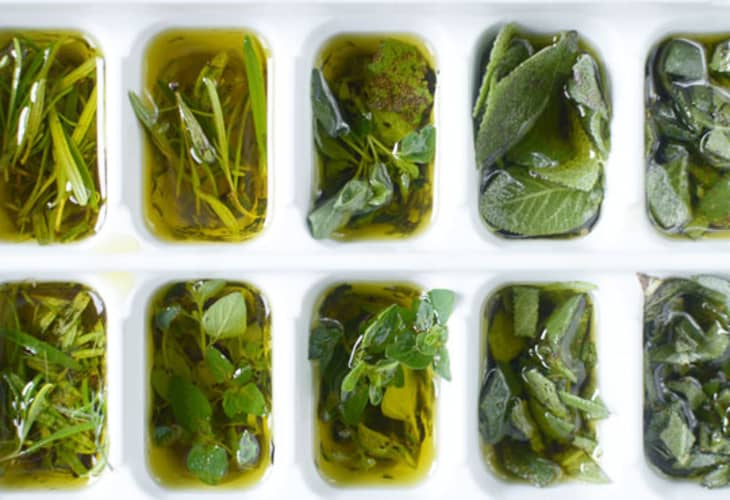 Herbs can be expensive, and often you get more than what you're recipe calls for. To make sure to get the most out of the herbs you buy, chop them all at once. Save out what you need for the recipe and your cooking for the week. Then, add the remaining chopped herbs into an ice cube tray. Fill the remaining cube with 1-2 Tablespoons (14-28 grams) of olive oil, and freeze them. Pull these out for quick flavour punches when you're ready to saute some vegetables.
5. Make Olive Oil Infusions
Your peppers, herbs, lemons and other citrus that are about to turn bad can make great olive oil infusions. Cut them so that they fit into whatever bottle you're using for infusions. Then allow them to sit in the olive oil for at least a week before using or gifting.
6. Throw It Into a Stew
Stews aren't born in a day. Usually, they're the accumulation of about a month's worth of frozen odds and ends that you've squirreled away after preparing a meal. When it comes to putting together a peasant stew, just about anything goes, from softening celery and carrots to a bottle of wine that's been open too long. Throw in your kale and hardier greens, chicken and vegetable stock, and a bit of meat or chicken that might be waiting in your freezer.
7. Make Croutons from Stale Breads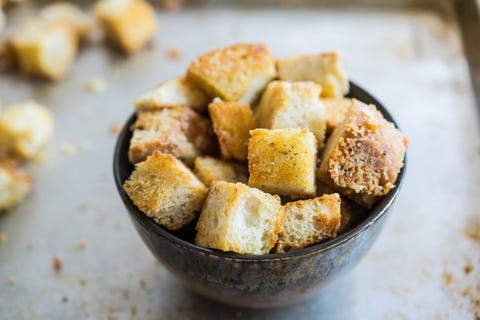 Make your own croutons by cutting your stale bread into squares. Drizzle them with olive oil and add seasonings, such as salt, pepper, basil, and oregano. Place them on a sheet pan and bake at 400 degrees for about fifteen minutes until they are golden and no longer soft. You can also make your own bagel or pita chips from stale bagels or pitas following this same method.
8. Roast Tomatoes That Are on The Edge
You can preserve your tomatoes for another week by roasting them in the oven and then storing them in olive oil inside your fridge. While you're at it, you can roast some of your other more delicate vegetables as well and store them all together for a future pasta sauce.
9. Puree Overripened or Overcooked Foods
Berries are an amazing snack on a warm day, and they can brighten up anything from your morning yogurt to a light dessert. However, it's no secret that these berries go bad quickly. Pureeing the berries is a great way to preserve them in a way that helps prepare for your next use of them. Pureed berries are great for making jams and preserves, a mix-in for yogurt, dessert or ice cream toppings, or frozen to add to smoothies. You can also puree overcooked veggies to make sauces and salsas, as well as soups and stews.
10. Use Them for Cleaning
There are many herbs that perfectly complement your homemade cleaning solutions, such as rosemary, basil, and sage. However, nothing cleans better than your overripe lemons. The lemon's acid makes it useful for cleaning and sanitizing the house, not to mention it makes everything smell bright and fresh. Throw it into your vinegar cleaning spray, or sprinkle a lemon half with baking soda to scrub stubborn stains off your pots and pans.
Source: groomandstyle.com
Click on the comment box below and leave us your thoughts. Thank you