I know firsthand how annoying nose pimples can be especially because they usually pop out of nowhere. When they come too, they're really stubborn and very difficult to get rid of. Squeezing or scratching them will just make them grow bigger but we've found a couple of solutions. Remember; these are for dealing with just one pimple and shouldn't be used on full blown acne problems.
1. Ice
Wrap a few pieces of ice or crushed ice in a clean washcloth and press it against the pimple for about 20 minutes. Repeat after a few hours. An ice pack is another fast-acting remedy for pimple on nose. This reduces inflammation and swelling, reducing the size of the pimple making it less visible
2. Tea Tree Oil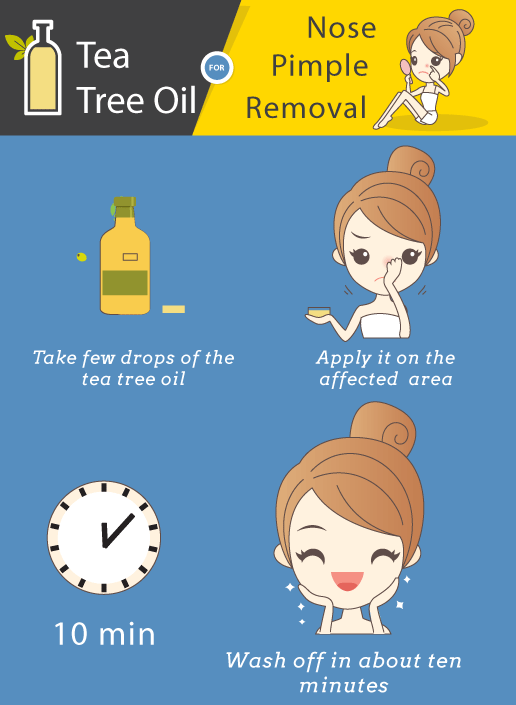 Apply the oil on the pimple and a little around it two to three times a day. Leave it on for at least 10 minutes and then rinse with water. You can also use creams or ointments containing tea tree oil. A 5% tea tree oil content in creams is sufficient to clear the zit on the nose. tea tree oil clears moderate acne. It is a potent antimicrobial agent that has bactericidal, virucidal, and fungicidal components. It also prevents the formation of scars once the acne has healed. For sensitive skin, dilute a drop of tea tree oil with a drop of coconut oil or jojoba oil.
3. Apple Cider Vinegar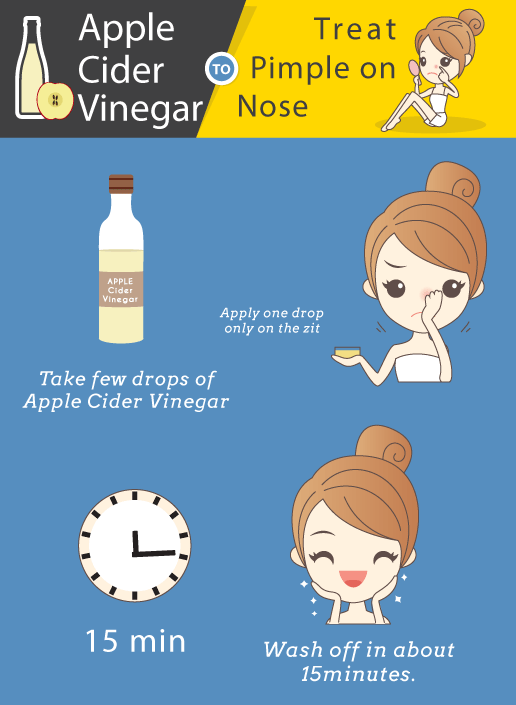 Desperate circumstances call for drastic measures, and apple cider vinegar certainly fits the bill! Undiluted ACV is almost never recommended on the skin unless you are confronted by a large, boiling red, ugly pimple. It reduces inflammation and swelling of the zit. It balances the skin's pH as well. Apply this directly on the pimple on your nose and let it dry naturally. Wash off in about 15 minutes. Do this only once a day.
4. Lemon Juice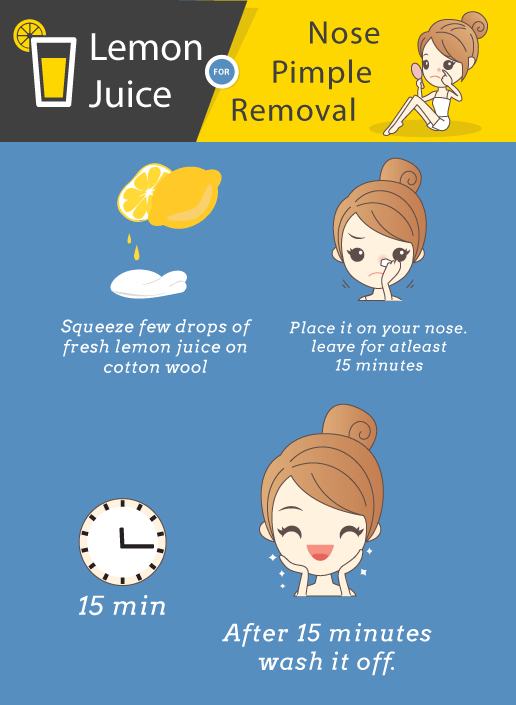 Lemon juice is last on our list for a reason. Lemon is extremely acidic, which can irritate your skin. You might experience excessive dryness, redness, and peeling of your skin. These effects can be worse if you have sensitive skin. If you have to use this option, you may have to dilute the lemon juice. Squeeze a few drops of lemon juice on cotton wool and place it on your nose. Leave it on for about 15 minutes. Rinse with regular water after the time is up. Lemon juice makes your skin photosensitive, so it is better to avoid stepping out during the day if you have this juice on your nose.
Remember once again, these are one time things. You don't need to do them if you have a full blown acne problem.
Source: stylecraze.com
Click on the comment box below and leave us your thoughts. Thank you