We're all very familiar with the saying, "all work and no play make Jack a dull boy", but how can you even tell you're just that; all work and no play? Here are 4 signs to look out for that can help bring you back to reality and blow off a little more steam.
When you are too invested in work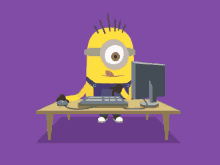 Sure, it's more than okay to be driven and passionate about your job, but not making time for anything else except work is eventually going to work you out and drive you crazy!
Click on the numbers below for more………