If you haven't been paying attention, the Nigerian youth are walking the streets of the country right now, protesting against SARS, asking for it to be shut down completely.
If you did not know, SARS is an acronym for Special Anti-Robbery Squad. It is a branch of the Nigeria Police Force under the Force Criminal Investigation and Intelligence Department (FCIID).
The squad is supposed to deal with crimes associated with armed robbery, car snatching, kidnapping, cattle rustling, and crimes associated with firearms but from videos and reports from Nigerians all over social media, the anti-robbery squad has become a nightmare.
Young people are being profiled and harassed by SARS for the simplest reasons: Having locs, dyed hair, owning an iPhone or moving around with a laptop in your bag.
Doesn't matter if you did nothing wrong, they randomly stop people, go through their phones, extort money from their victims, beat some up and even shoot some to death.
No one is safe.
Fed up Nigerians took to social media and the streets to protest and ask for the SARS operation to be ended, over the weekend. On Sunday, a special presidential directive was issued out, ordering the immediate dissolution of SARS and redeployment of SARS officers.
Sounds like victory but…Nigerians wanted more. Not because they are greedy but because this wouldn't be the first time SARS has been "reformed" "disbanded" for some few days only for them to go back to harrassing people on the streets.
August 2018:
In August 2018, Vice President Yemi Osinbajo, acting President at the time, said he had " directed the Inspector General of Police to, with immediate effect, overhaul the management and activities of SARS." Any unit that emerged from this was supposed to be "intelligence-driven and restricted to the prevention and detection of armed robbery and kidnapping". They were to carry proper ID at all times and adhere to the rule of law and the international human rights law. After this statement, the then IGP announced that the unit would be renamed Federal Special Anti-Robbery (FSARS).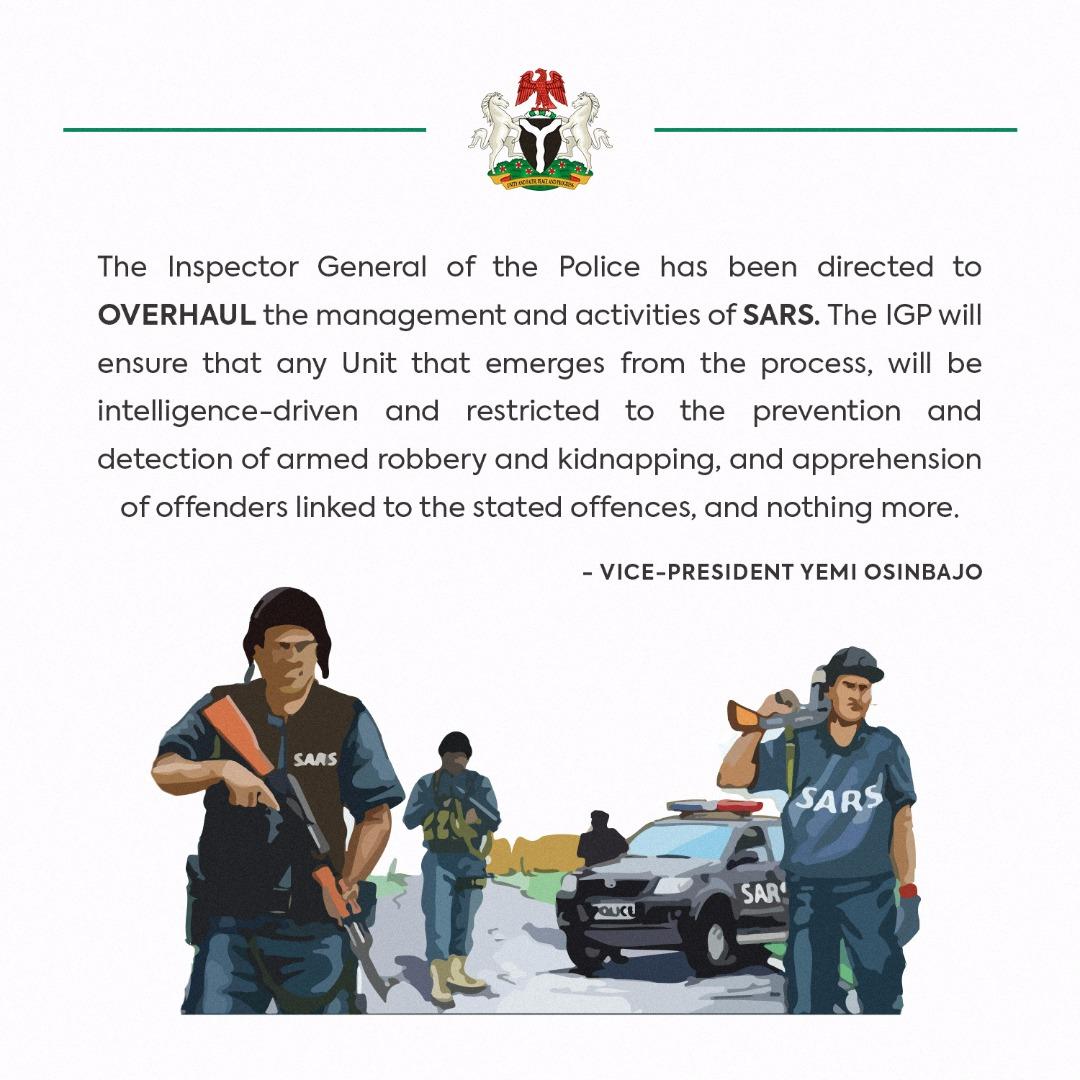 September 2018:
According to an article by several Nigerian websites including Premium Times NG where this was retrieved from, the then IGP, Ibrahim Idris issued out a stern warning to SARS operatives telling them to stop their "Stop and search" raids and harassing commuters.
Speaking through Amaechi Elumelu, the National Coordinator of X-Squad, the IGP said to officers of SARS: "You are barred from searching handsets and laptops of innocent citizens, unless the search is directly linked to a case or directed by IGP or any person or persons he so delegated,"
"Forthwith, any FSARS officer who detains any suspect beyond 48 hours without recourse to the court risks dismissal,"
January 2019:
This time, again, after Nigerians protested against the SARS operatives, the President issued out another statement, with more or less the same "reforms" from previous years.
Again, SARS officers were asked to stop invading people's privacy, go on patrols only in uniform and stop "indiscriminate and unauthorized search of mobile phones, laptops and other smart devices."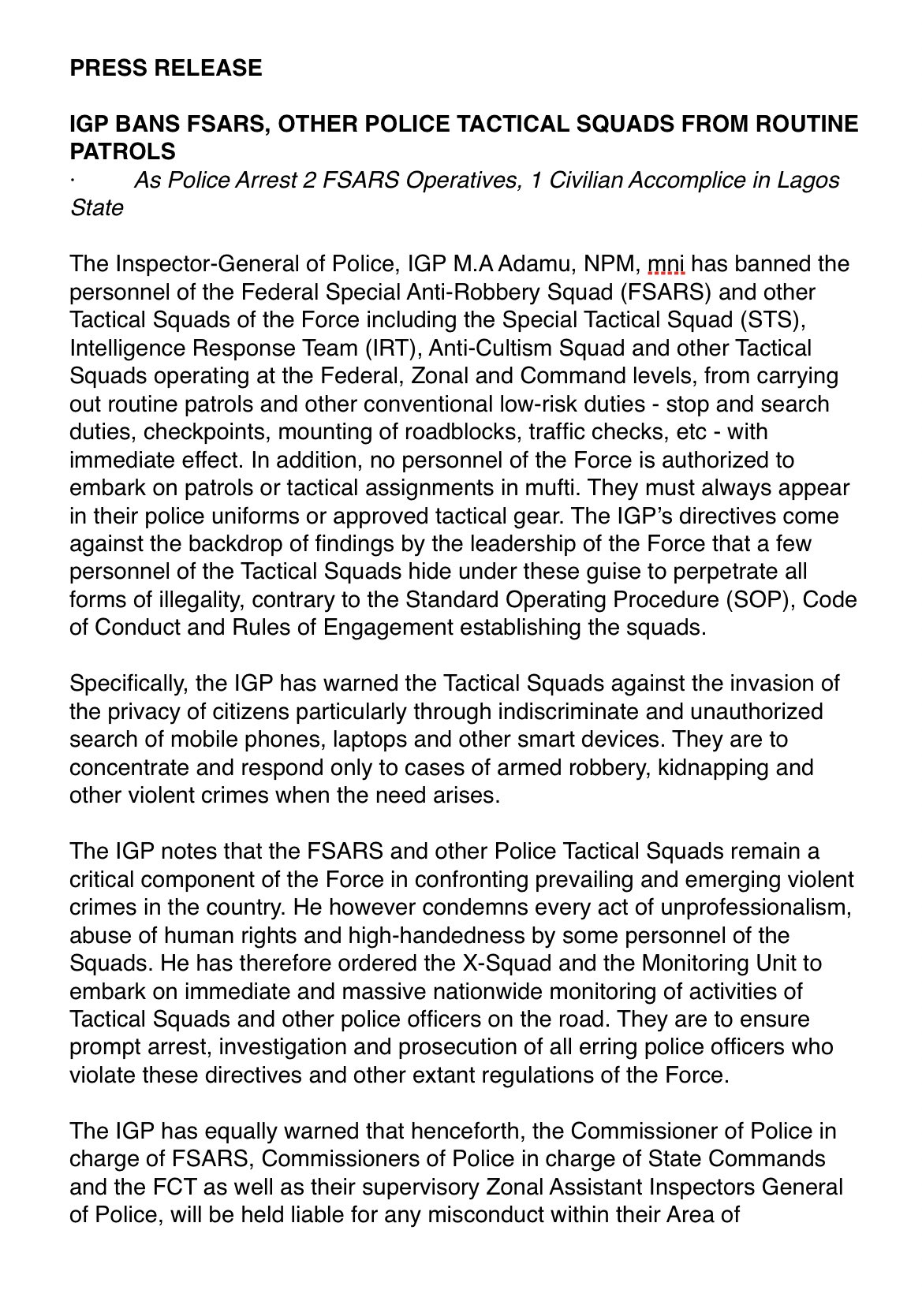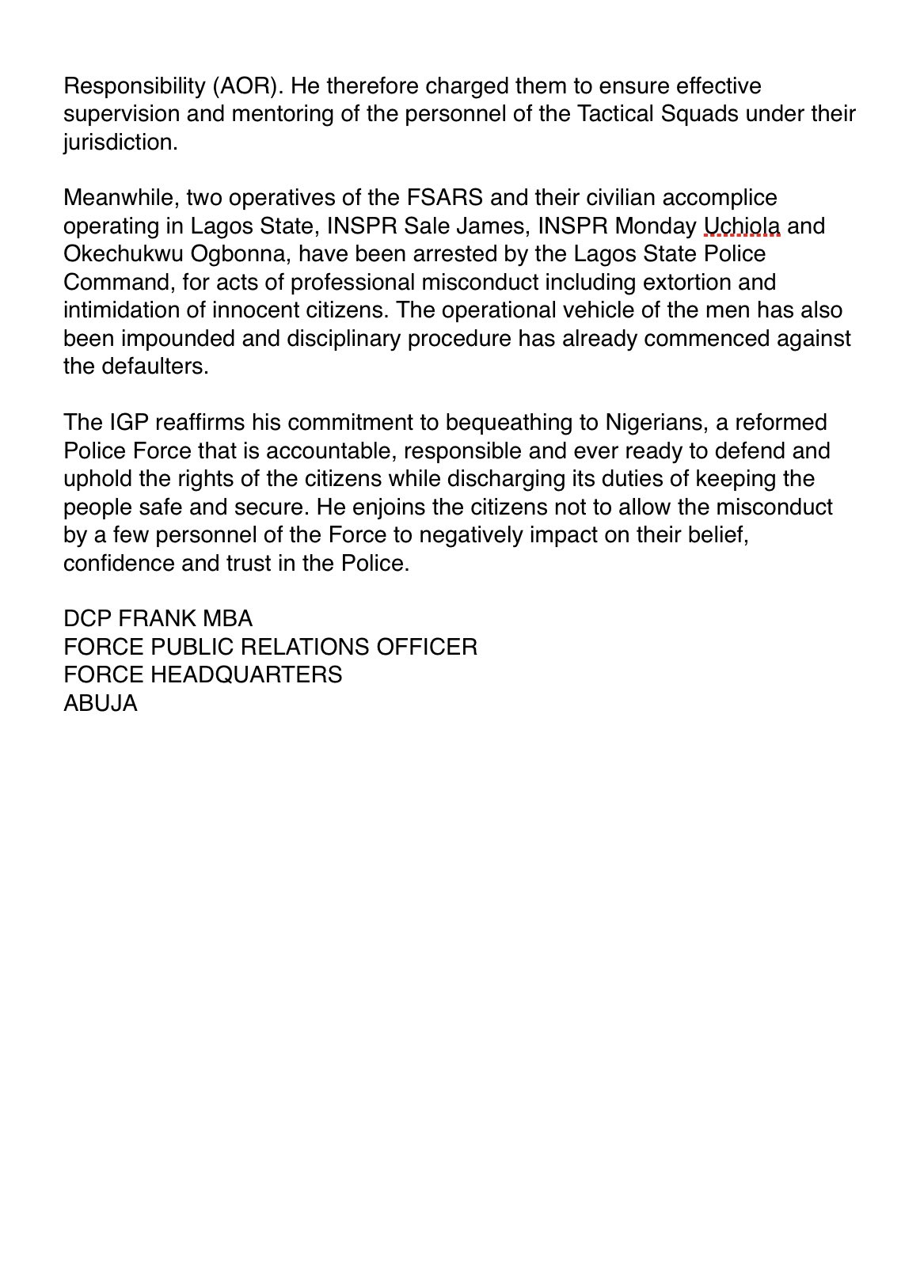 October 4th 2020:
Interestingly, on 4th October, just a few weeks ago, the official Nigerian Police Force account on Twitter issued out a statement saying…you guessed right…the same thing again! "IGP BANS FSARS, OTHER POLICE TACTICAL SQUADS FROM ROUTINE PATROLS"
The long Twitter thread which said other Tactical squads were allowed to operate were supposed to make sure they abide by the "new set of rules": No patrols without uniforms, no harassment of citizens, no unauthorized search of citizen's phones and laptops and more.
The statement added "They are to concentrate and respond only to cases of armed robbery, kidnapping and other violent crimes when the need arises."
Read the rest of the thread here
It's obvious the Nigerian officials have become broken records, saying the same things over and over again without really doing anything about it. If anything, the Nigerian Youth have the right to be angry and demand that this time, the disbandment has to be for good. Redeployment only means they'd be back like nothing ever happened.
So yes, take some time off and join the Nigerians online and just tweet or retweet #EndSARS.
Their voices need to be heard.
Source: kuulpeeps.com
Click on the comment box below and leave us your thoughts. Thank you