Some trends have had their moments in fashion and in life, but others were a complete flop.( heels with socks? Wow!) On the bright side, a trend that seemed to have always existed but has come back stronger and better is the baggy clothes trend. Most people have and continue to serve looks with this, but others, unfortunately, are missing the mark, but we got you.
Here are 4 very simple ways to look comfy and look your best when wearing baggy clothes.
Don't pick any large size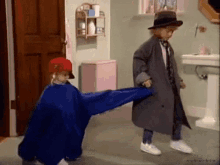 Yes, the idea is to wear something large and look fire, but not every large is good for you. You have to go a straighter looking shirt instead of a bulkier shirt to bring attention to your arms and neck. Trousers also have to be plain and simple for a more cohesive look.
Click on the numbers below for more……………………….