If you are deeply into HipHop, then you know of the two legends…Tupac Shakur also known as 2Pac and Notorious B.I.G who was also known as Biggie Smalls.
These two were major rappers at the time of their deaths and both died in fatal drive-by shootings. Tupac was shot in Las Vegas in September 1996 at a red light and died 6 days later from the gunshot injuries. Biggie on the other hand died after being shot four times, moments after leaving a music industry party at the Peterson Automotive Museum in Los Angeles.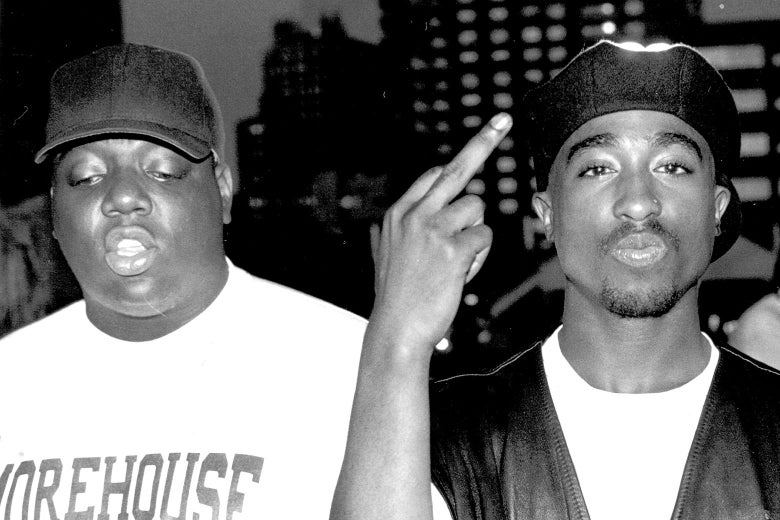 There have been several conspiracy theories around the two rappers deaths especially as they were known rivals in the world of HipHop but, according to Greg Kading, a retired LAPD officer who was appointed head of a multi law-enforcement task force that investigated the murders of the rap stars in 2006, he knows exactly who killed both rappers.
He broke everything down in several interviews as well as a book, Murder Rap: The Untold Story of the Biggie Smalls & Tupac Shakur Murder Investigations, published in 2011.
Now from Kading's allegations, two people are implicated: Sean Combs also known as Diddy and Suge Knight who were heads of the record labels the rappers were signed to.
Sean "Diddy" Combs was the head of Bad Boy Records which was Biggie's label and Suge Knight was head of Deathrow Records which Tupac was signed to.
According to Kading, the link between the two rappers' death cases was as a result of a history of violence between both record labels mostly because, there was some link between the labels and the two major gangs LA: The Crips and The Blood gang.
Sean Combs (Bad Boys) allegedly had some affiliations with the Crip Gang and Suge Knight (Deathrow Records) allegedly affiliated with the Blood gang.
Kading narrated that, Sean Combs allegedly had to associate himself with the Crip gang members for protection because he was accused by Suge Knight of killing his best friend, Jake Robles. Jake was shot at a party in Atlanta and witnesses claimed a member of Diddy's entourage had shot Jake.
Diddy denied it of course but from Kading's reports, it seems that was what started a chain of events that suspiciously hint at "revenge" between these two label heads.
So.. who exactly killed Tupac?
Kading says they cannot tell on whose orders exactly the shooting was carried out but he did say he was sure the Crip Gang took it upon themselves to kill Tupac and the guy who pulled the trigger?
Orlando Anderson. A Crip gang member who got into a fight with Tupac and his entourage 3 hours before the shooting.
Orlando was the nephew of a Crip member called Keefe D who was allegedly the cocaine and PCP (Angel dust) plug for a high level drug dealer known as Eric "Zip" Martin who in turn, was…. an associate of Sean Combs.
According to Kading, Orlando was definitely the guy who was in the back seat of the white cadillac that pulled up and shot Tupac. Kading added that Keefe D secured and gave the gun that was used to shoot Tupac to Orlando.
Was Orlando charged for this alleged murder of Tupac?
No. Kading says by the time they got all evidence that pointed to Orlando Anderson as the killer, Orlando had already been shot and killed in a drug-related confrontation in Compton in 1998.
His death meant he was immune from prosecution.
Biggie's Death
Now after Tupac's death in September 1996, Biggie was killed a few months later in March 1997.
Remember that Biggie was signed to Diddy's label, Bad Boy Records…'rivals' of Suge Knight and Deathrow Records, both affiliated with rival gangs, Crips and Blood…respectively.
So…who killed Biggie?
Now Kading says that he and his team got a confession from a co-conspirator who pointed out the killer as a blood gang member called Poochie who was also coincidentally, an associate of Suge Knight.
Kading says that Suge Knight's Baby Mama referred to as "Teresa Swan" for obvious reasons, identified Poochie as the killer and provided details of the murder that only law enforcement would know, making her a credible source.
Poochie allegedly tracked Biggie and shot him moments after he'd left the Peterson Automotive Museum.
So… was Poochie charged with the murder?
No.
Again, by the time Kading and his team had enough evidence that pointed to Poochie, he'd already been dead. He was shot and killed in the back in 2002 while he was riding his motorcycle by some gun men.
He too was immune from prosecution because he was dead.
So, that's it?
In what Kading calls fate, Suge Knight is currently in prison but not for any of the murders. He ran over and killed a guy at a burger stand in 2015. He's been in prison after being charged for voluntary manslaughter and is facing 28 years in jail. He will become eligible for parole in 2037.
No one has been brought to justice for the two rappers' deaths which is why conspiracies are flying around over who killed who. If we take the Detective's revelations, it will make sense why no one was brought to justice since the actual people who pulled the triggers are both dead.
If you made any other deductions, well… there's no evidence supporting that.
Source: VICE/Kuulpeeps
Click on the comment box below and leave us your thoughts. Thank you