We know most of you are lost but we did some digging and we found out what exactly is going on the female side of the music industry.
What is the root of all of this: Medikal and Fella Makafui…minding their business and getting dragged into messes.
Long after the two got married and shamed everyone who thought they were not genuinely in love, his ex, Sister Deborah was the brunt of all social media jokes as the heartbroken ex.
It went up a notch when she posted a photo of herself and Medikal…back when they were dating and captioned it "Sweet Ex" which led to a a song titled "Sweet Ex".
And that's what opened the floodgates of beef.
Fella made a debut into the music industry with two songs which people claim had a few jabs at Sister Deborah but she never confirmed or denied that.
Things went quiet and then out of nowhere…boom!
Sista Afia, known as a really great singer also made her debut into the rap scene and dropped a diss track titled "WMT" which many claimed was a diss track to Sister Deborah and some other women. (The lyrics speak for itself)
Sister Deborah did not react but did hint that Sweet Ex must have triggered Sista Afia on behalf of Medikal.
Could that be true? Not really, because Sista Afia went live on her Instagram and swore that he was not dissing anyone on her "WMT" song. She dished it out to her fans for implying that and basically called for people to focus on her talent instead.
Apparently, Eno took part in the banter and Sista Afia decided to react directly and asked her followers : "Is Eno Barony a rapper?"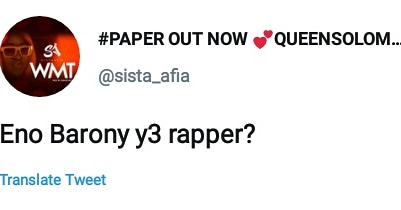 Of course Eno had to reply to that and she did not mince words at all when she did!
And then she dropped her song, Rap Goddess where she effortlessly proved why she is Rap.
So..where does Freda Rhymz come in?
No one really knows but she just seemed to be pissed that Sista Afia was switching to Hip-Hop and just decided to throw some stray bullets her way.
And that is why Sista Afia has dropped another hip-hop song killing two birds with one stone: A singer turned rapper to beef them all on You Got Nerves which people swear she killed!
Freda Rhymz and Eno may respond to this. We just have to be patient.
And that's the whole story.
source: kuulpeeps.com
Click on the comment box below and leave us your thoughts. Thank you