All you have done is eat during the lockdown and now look at you. The only thing you have left is gari and you aren't sure what to do with it.
Fortunately for you, having only gari can still feed you for the next few days and the best part is…it is very satisfying!
Here's every meal you can make with gari, in all it's awesomeness.
Gari Soakings
Gari soakings is the perfect thing to have as a snack. All you need to do is put some gari in a cup (or bowl) add some sugar, milk (lots of it), groundnuts and water and you have a delicious snack to eat instead of grabbing the kenkey you were supposed to eat as dinner!
Eba
Eba is an elite meal and it comes in various forms!!!
Let's start with the banku eba. We are calling it this cos you need to prepare it on the stove like it's banku. Just heat some water, add onions and salt and pour the gari in slowly while turning it like you're making banku. It takes just some few minutes to make and it's perfect with soup, stew, shito…anything!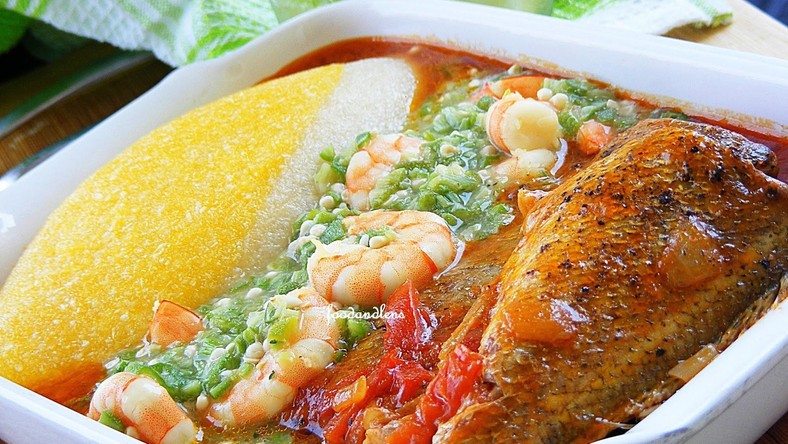 The there's the plain eba that has saved lives! If you are too lazy to 'cook' your eba, you can just put some hot water (or even lukewarm water) in a bowl, add a little salt and stir in some gari till it becomes a nice compact bowl of eba.
Then there's the eba that looks like it's light-skinned. Some Ewes call it Gari Pinon and it's actually popular in Togo and Benin! With this, you start the process like you are preparing jollof (we are talking about making tomato stew) and then you add some water. Leave it to boil and then pour some gari into it and stir like it is banku. The gari will soak up the flavour of your tomato broth looking like Gari jollof. This "jollof eba" goes perfect with green pepper and fried goat meat.
Gari fotor
It's really simple and can be done any way you want it. It's gari but you can even call it "stir fry gari". Get some gari all wet and fluffy because it's been perfectly mixed with stew you either made for the gari fotor or stew you've had in your fridge for a while. You can fry eggs, cut some avocados or fry some plantain to add to it, add veggies… The possibilities are endless!
Gashit (Gari+Shito)
Or, you can go the one true way and just pour some gari in a bowl, add some shito, mix it up and add some sardines, just like the High School days.
We promise any of these will make you very satisfied and most of the time, just a little scoop of gari can turn into your heaviest meal of the day!
Source: Kuulpeeps.com
Click on the comment box below and leave us your thoughts. Thank you