Because of the coronavirus pandemic, our vocabulary has changed!
Now we are using words we never thought we will be using every single day!
"Lockdown"
Did you even know what this really meant before this period? I mean you knew but you never really paid attention to what it meant but now look at you…saying lockdown every 5 sentences!
"Quarantine"
Did you ever use this word before the pandemic? Lol unless you are a doctor or a nurse, the last time you heard this word was in a movie! Now you're on social media typing "Quarantine" "Self-quarantine" "Why didn't they get quarantined" and even "Quarantine and chill" any chance you get…
"Contact Tracing"
The president and every report on coronavirus have used it so many times it is part of your vocabulary now. The first time you heard it, you were probably confused but now look at you telling everyone "They need to find all the people who have come into contact with the person who tested positive and test them" (That is contact tracing)
"Work from home"
Remember when people used to send you links about jobs that said you could work from home but you looked at it suspiciously like "eii what if they are scammers" or "ei me dierr I can't" Well… what do you say when relatives call to check up on you?
"I'm working from home ooo. I just got out of an online meeting mpo"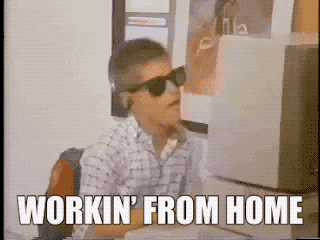 "Online classes"
Lol students never thought a time would come where they would be talking about "going to class" in their underwear and T-shirts lol. To slow down the spread of the virus, schools have been shut down and most of the teachers and lecturers are making sure classes go on…but online. So yes, now you're taking online classes and it's not because you want to lol
"Isolation"
Especally, self-isolation. Before the lockdown, all everyone talked about was "Self-isolating" because they did not want to go out and maybe catch the virus ut before the pandemic, did it cross your mind to use the word…at all? Nope!
"Social distancing"
How many of you knew this was even a thing?! But.. it is everyone's mantra now: "Make sure you keep a minimum of 2 metres between you and the next person". We all know this even if you do not know how to measure metres (Don't pretend please).
The spread of the coronavirus is scary but, the best way to deal with this is to obey the lockdown rules, wash your hands and use hand sanitizers whenever you get into contact with anyone or anything outside your home!
That's the only way to stay safe so…be safe and enjoy your new vocabulary!
Source: Kuulpeeps.com
Click on the comment box below and leave us your thoughts. Thank you