One reason why we love to play with our natural hair is that it is so versatile! Natural hairstyling options are quite a lot and if you have time for your hair, you can look very different every week.
Twist-outs are quite easy to do and can move your overall look from 0-100% real quick!
Although they're easy to rock, getting the perfect twist-out can be very exhausting. You can put in all the work and still end up without defined curls or you'll get a somewhat good look today and when you sleep and wake up, all the curls would have vanished into thin air.
We are here to help you out. Here are 5 simple steps to follow to get the perfect twist-out.
Wash, Condition and Detangle Your Hair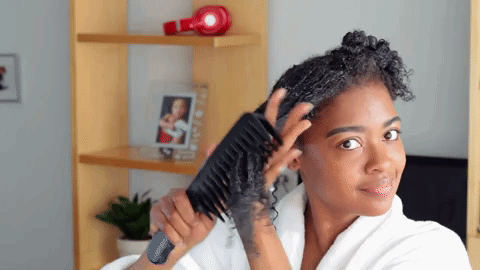 Section your hair, detangle and wash it with your favourite shampoo. After 2 rounds of washing, whiles concentrating on the roots of your hair and scalp, apply your conditioner especially to the ends of your hair as they are the oldest parts and might not get enough of the natural oils from your scalp. The conditioner should also help detangle your hair starting from the ends to roots with patience.
Click n the numbers below for more