Judith Ariho does not shed any tears as she recalls the church massacre in which her mother, two siblings and four other relatives were among at least 700 people who died.
Exactly 20 years ago, in south-western Uganda's Kanungu district, they were locked inside a church, with the doors and windows nailed shut from the outside. It was then set alight.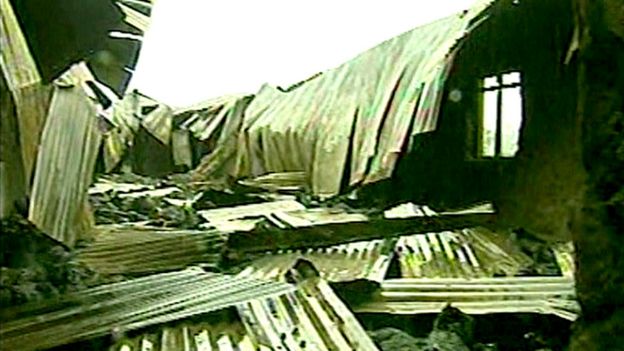 The dead were members of the Movement for the Restoration of the Ten Commandments of God – a doomsday cult that believed the world would come to an end at the turn of the millennium.
The leader was called Joseph Kibwetere.
"The end of present times", as one of its books phrased it, came two-and-a-half months later, on 17 March 2000.
The self-sustaining community would take in whole families, providing for their every need. The members grew their own food, ran schools, and used their skills to contribute labour.
But it appears that the cult leaders may have also engaged in murder and torture before the final massacre.
After the Movement's foundation, word of Kibwetere and his religion spread across south-west Uganda and beyond.
The community was not closed off from the rest of society, and several people in positions of authority – including policemen and local government officials – were aware of its activities. But little action was taken against the cult before the inferno.
Although Interpol issued notices for the arrest of six cult leaders in April 2000, it is still not known if any of them died in the fire or whether they are living in hiding.
A 2014 Uganda police report indicated that Kibwetere may have fled the country. But others doubt that he was well enough to do this.
Two decades on, the 48-acre plot at Kanungu is now being used as a tea plantation, but local businessman Benon Byaruhanga says he has plans to turn parts of it into a memorial.
So far, the dead at Kanungu have never been officially remembered. Those who lost family members have never got any answers.
source: BBC
Click on the comment box below and leave us your thoughts. Thank you.