The Russian trolls are back — and once again trying to poison the political atmosphere in the United States ahead of this year's elections.
But this time they are better disguised and more targeted, harder to identify and track. And they have found an unlikely home, far from Russia itself.
This time, a Ghanaian called Seth Wiredu is the man running the Russian troll farm in Ghana and Nigeria.
The troll farm was registered as a nonprofit called Eliminating Barriers for the Liberation of Africa (EBLA).
The man running EBLA calls himself Mr. Amara and claims to be South African. In reality, he is a Ghanaian who lives in Russia and his name is Seth Wiredu.
Several of EBLA's workers said they had heard Wiredu speak Russian.
Late last year, Wiredu extended EBLA's activities to Nigeria, filling at least eight positions, including a project manager to help with "social media management."
EBLA had a website touting its advocacy work, but CNN found the photos had likely been uploaded by someone using a Cyrillic keyboard, unusual outside of Russia.
On February 6, Ghanaian security services raided the EBLA compound.
On that same day the group stopped posting on the social media accounts it had created.
One of the workers told CNN they were told to lie on the ground and had guns pointed at them.
They were interrogated by police and the phones used to post on the fake accounts were confiscated.
In a statement to CNN, the Ghanaian security services said their Cyber Security Unit had become suspicious of EBLA's activities and believed it was engaged in "organized radicalism with links to a foreign body."
They added that they had determined that "EBLA receives its funding from an anonymous source in a European country."
Ghanaian security sources subsequently told CNN that all of EBLA's funding had come from Russia.
Wiredu does not seem to have been deterred by the raid. Early in March, he called a meeting of EBLA workers. CNN observed the meeting from close by.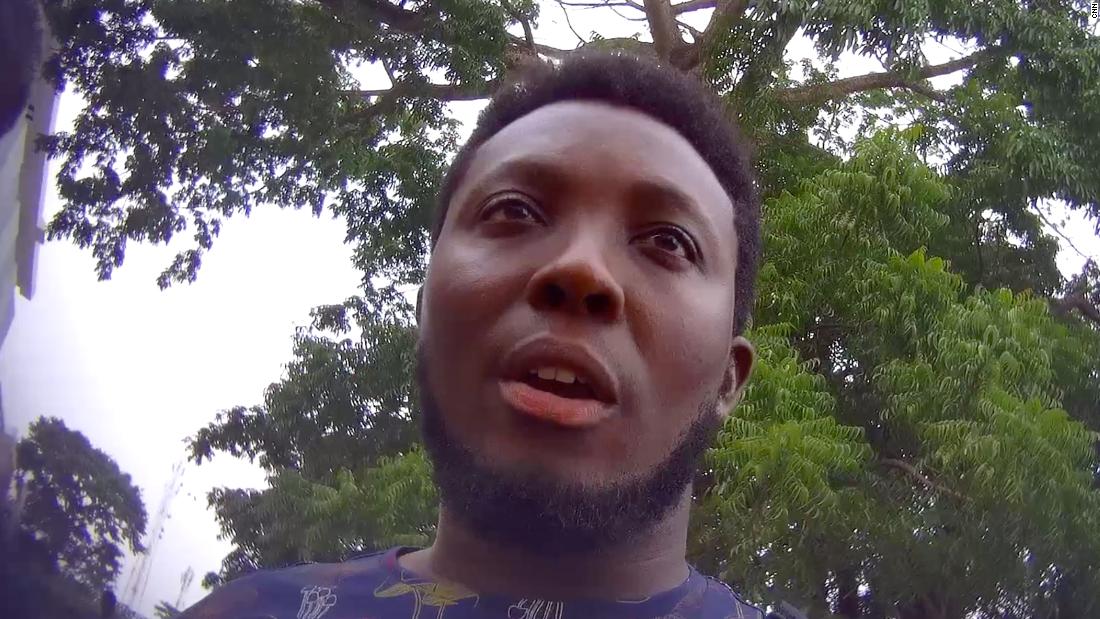 Seth Wiredu, seen here in a frame from a hidden camera video, said he had no idea why his offices were raided by Ghanaian security forces.
Wiredu told the workers, whom he met in several groups, that the trouble with the security services would soon pass, according to someone at the meeting.
He told them they would be returning to work and should create new accounts, providing him with the passwords.
Approached by CNN after the meeting, Wiredu denied he had ever worked for the Internet Research Agency or knew Prigozhin.
"I wouldn't say I have Russian partners. I have friends … but to call them partners wouldn't be right because I don't ask someone to come and support me," he said.
He said he did translation work for many entities in Russia. Wiredu insisted he funded EBLA from his own income and did not understand why the Ghanaian security forces had raided the compound.
He said the accounts had been "talking about what is important to black people, talking about racism, talking about police brutality."
"I actually, I perceive myself as a black fighter. I fight for black people," Wiredu added.
Wiredu acknowledged that he had called himself Amara and pretended to be South African.
EBLA's targets in the US followed a long-established pattern, according to Linvill and Warren at Clemson, who work with US law enforcement in tracking trolling activities.
Wiredu closely monitored the impact of the expanding operation, according to several EBLA employees who spoke to CNN.
It's unclear whether Wiredu will succeed in reconstituting the EBLA operation after the February raid.
He certainly intends to try, according to one of the EBLA workers, who told CNN that he had encouraged them to begin new accounts.
source: CNN
Click on the comment box below and leave us your thoughts. Thank you