It Takes 2
It takes 2 was another great game show. That was how most of us got to know the host, Kwame Sefa Kayi. Everyone dreamed of being on It Takes 2 because it had so many fun segments! From 'Knowing Me, Knowing You' to charades and more…It Takes 2 was one of the best shows on TV!
Fun House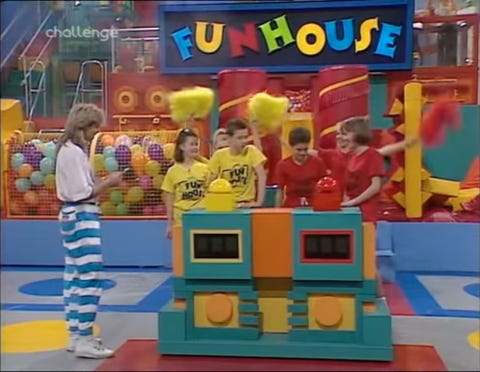 Fun House is an old British game that used to air on TV here in Ghana (we cannot seem to remember the exact station) The show was exciting and was basically two teams of kids (red and yellow team) going through a fun obstacle race.
Fear Factor
Why did we ever watch this? It was super disgusting but we loved it! As kids, it was thrilling to watch a bunch of grownups eat disgusting things like cockroaches, get locked up with bees and more just to win some money!
Mentor
We aren't talking about the new Mentor…we are talking about the Mentor that gave us Andy, Ruth, Erico and more! The one where we knew all the words to their songs! If you didn't know the words to "Mentor makes you bold, Mentor makes you a star…" you weren't a cool kid!
Which show do you remember? Which ones got you excited??
Source: Kuulpeeps.com
Click on the comment box below and leave us your thoughts. Thank you