ASAP Rocky has announced a headline show in Sweden for December.
The show comes just months after Rocky's extended legal battle following a widely publicized incident in Stockholm which saw Rocky being arrested and ultimately given a two-year suspended sentence.
See Also: Breaking: A$AP Rocky Found Guilty Of Assault By Sweden Court
"After tremendous support from the Swedish fans, he returns to Stockholm for a long-awaited gig for all his supporters," a Live Nation rep said in a statement Friday, per regional outlet The Local.
Rocky will perform at the Ericsson Globe in Stockholm on Dec. 11. The show will also include Swedish artists, with a portion of proceeds going toward the non-profit Swedish Network of Refugee Support Groups (FARR).
Back in August, Rocky—alongside Bladimir Corniel and David Rispers—was ultimately found guilty of assault and given a conditional sentence after a controversial case involving an incident in which they argued they were acting in self-defence. In a statement on the day of the verdict, Rocky said he was "disappointed" by the outcome but thanked fans and friends for their support.
"The court has recognized that Rocky and his party were followed and harassed, that no bottle was used, that Rocky didn't act in a joined attack with the others and that Rocky didn't inflict any wounds on the victim and that is a win," Rocky's attorney Slobodan Jovicic told BBC News at the time, adding that the conclusion that Rocky did not act in self-defence was a conclusion "Rocky and I don't agree with."
In the ensuing months, Rocky made an appearance at Tyler, the Creator's Madison Square Garden show and took the stage at the Real Street Fest in Anaheim.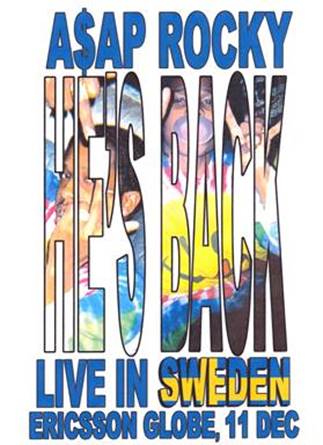 Source: Complex
Click on the comment box below and leave us your thoughts. Thank you.