Rihanna caused a stir Saturday night when she shared a promotional video for her Fenty Beauty line.
See Also: This Is Why Everyone Thinks Rihanna Is Pregnant And The Reactions Are Wild!
The clip shows a collection of lip glosses arranged at the edge of a pool and ends with RiRi grabbing one of the products and bringing it closer to the camera. She captioned the post: "Gang Gang. just me and my #GlossyPosse!"
Gang Gang.
just me and my #GlossyPosse !!! @fentybeauty pic.twitter.com/yimv6gsnAz

— Rihanna (@rihanna) October 19, 2019

Now, you may be wondering what the drama is all about—especially if you watched the video on mute or are unfamiliar with Chris Brown's recent music. If you play the clip below, you'll notice that Brown's "Come Together" track featuring H.E.R. is playing in the background, which of course, sparked mixed reactions from the Navy.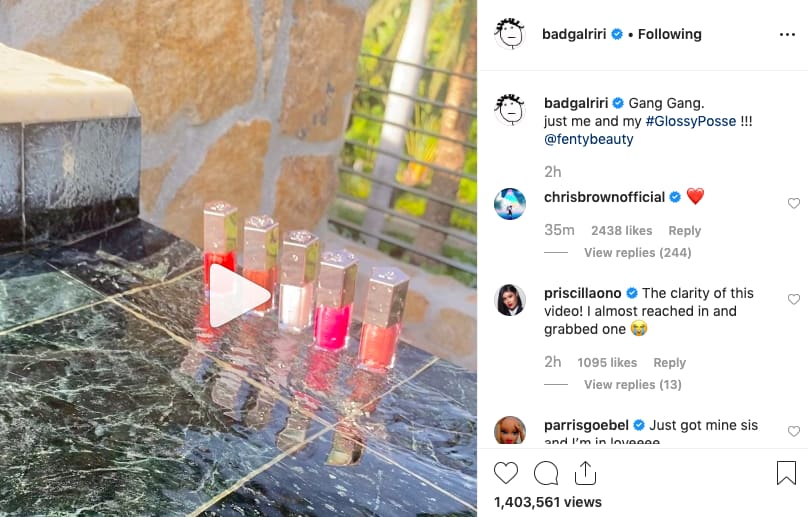 The artists' relationship has been tumultuous, to say the least. It was over 10 years ago when Brown was arrested for domestic assault of his then-girlfriend Rihanna.
See Also: Everything, Excluding Music, That Is Contributing To Rihanna's Richest Female Artiste Title
The incident has understandably left a huge stain on Brown's career, resulting in years-long boycotts of his work. So it should come as no surprise that many Rihanna fans expressed disappointment in her latest video, with some even calling for her to delete the clip.
I KNOW THAT AINT CHRISTOPHER IN THE BACKGROUND

— *sigh* (@_ayanna____) October 19, 2019
I know my ears aren't hearing that MFer

— ☼ bora ☼ (@modooborahae) October 19, 2019
Sis… pic.twitter.com/D5WhmmbgzQ

— MM (@shankballs) October 19, 2019
Some just plain refused to acknowledge the music
I love how this video has no audio 💕

— Roxy (@badg4lrihanna) October 19, 2019
Others made the singer know they were not going to show the post any love!
the music… i'm not giving this a like pic.twitter.com/Y7ssuaaAth

— layssa ☆ (@treasuresana) October 19, 2019
we not retweeting this one pumpkin

— toe (@damn_toe) October 19, 2019
Or maybe…she's just crying for help? Lol
rihanna has been kidnapped along with her friends in a water place. this is an sos, shes reaching out, this is a cry for help

— heejchuu weekend bash 🍀 (@dykevmin) October 19, 2019
Source: Complex
Click on the comment box below and leave us your thoughts. Thank you.