The Year of Return agenda is still going strong and even more, people are looking forward to coming to Ghana.
Sarkodie won the Best International Flow category at the just ended BET HipHop awards and the whole of GH has been super excited since then.
In his speech at the Awards show, he talked about Ghana and asked everyone to come visit the country.
He said: "This year is the Year of Return and I will urge each and every one of you here to take a trip back home. When you're coming to Africa, choose Ghana"
See Also: Sarkodie Pushes The #YearOfReturn Agenda On The BET Stage
Sarkodie spoke, and they listened!
Guess who answered his call
Chance The Rapper!!!!!!
He tweeted: "Year Of The Return #Ghana #HipHopAwards19"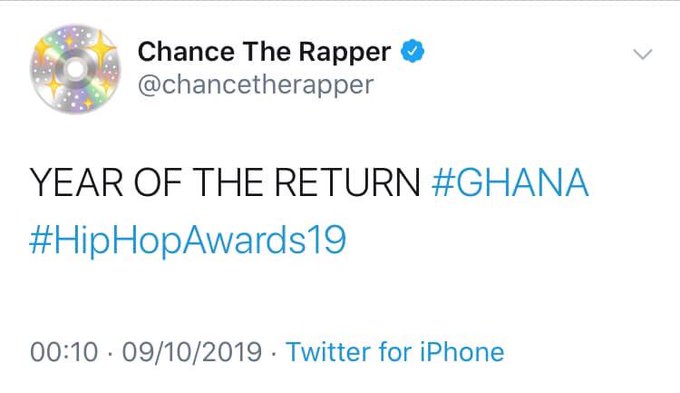 Yesterday, BET posted a video of Sarkdie's part of the BET Cypher for the Best International Act nominees and he's been trending since then for his powerful message on Pan Africanism.
See Also: Why Sarkodie's BET Cypher Verse Is A Strong Message To All Of Africa
Chance The Rapper is an American Grammy Award rapper, singer and songwriter.
Click on the comment box below and leave us your thoughts. Thank you.