Detty Rave has become one of the biggest events to look forward to in December.
Maybe it's the bag of surprises Mr Eazi pulls each time the concert is held or it's the solid artistes and even celebs who casually pass through on stage to everyone's excitement that has put the show on such high demand!
Naturally, for every well sought after event, tickets are a problem. They get sold out so fast and people resell theirs for extreme prices it's ridiculous! Yet people buy!
Mr Eazi is making things simpler this year.
Detty Rave 3: The Homecoming has literally started already.
See Also: Mr Eazi Plans To Set Up A Creative Hub In Accra For Every Young Artistes Needs
Mr Eazi has started the Detty Rave tour which is in actual fact, a campus tour.
He's taking the best of artistes from Ghana and Nigeria to Legon, KNUST and UCC to give students the wildest pre-Detty Rave experience but the best part is, he's making tickets available for the official Detty Rave concert in December.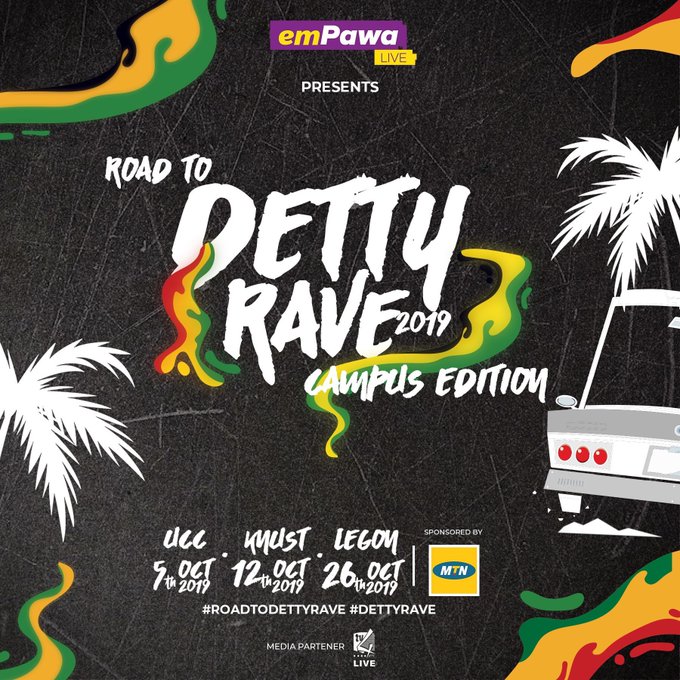 Tickets are available for pre-order on DettyRave.com for $20 which is about a GHc107 cedis but on the Detty Rave campus tour, students can buy the tickets for just GHc50.
UCC experienced the Eazi effect yesterday, 5th October with Joeboy, Tulenkey, Joey B, Mr Eazi and more giving the students a 'detty' experience.
Don Eazi has already announced the first set of artistes and DJs who will be at Detty Rave 3 in December.
See Also: #DecemberInAccra: Take A Look At The First Set Of Artistes To Perform At Detty Rave 3 In December!
The impressive list includes Jamaica's Koffee, DJ Cuppy, South Arica's Busiswa, Simi and more.
If you have a story you want to share with Kuulpeeps and the world, please send us an email to [email protected]