Chilling dierr, it's very necessary. We can all agree school can be so hard that sometimes, all we do is to look forward to Friday so we can go out and hang out with friends.
Usually, most people like to go to the pub or club to just drink with friends. The sitting nu, it really dey hia!!
Sure sure, a little alcohol may be healthy but, how do you know when you're slowly going overboard?
These warning signs will help you know if it's time to stop or start cutting back on the shots:
For some time now, all your plans revolve around alcohol.
As for you dierr, everything your mind dey! Even a harmless little party with no alcohol, you'd find a way to carry some there. Every plan you make with your friends has to do with taking shots and downing some vodka. Even when all your friends just happen to be at the same place at the same time, you whip out a bottle because "make we chill small". Doesn't matter if it's in one of your rooms or some random meet up somewhere. The alocohol needs to be involved!
You drink more than you used to.
Remember your first drink? you probably barely lived through one glass, but now, you're pouring it in like you're a bottomless barrel! Someway somehow, you're drinking more than you could. Calm down. It isn't you becoming a champion or alcohol god. It just means your body has adapted to cope better since it's been overexposed to the alcohol.
Friends have started talking.
Notice how your friends keep commenting on your drinking habits? "This boy! Herh! He dey drink waa". When this starts, it's a problem. It only means they have noticed, but they haven't really identified it as a problem yet.
Your work and relationships start to suffer.
You know things are getting really bad when your relationships start to suffer because well, when you don't have a drink, you start getting irritable and you take it out on your friend or significant other. When it comes to school dierr, you start to notice (or maybe you haven't noticed yet) that your academic work is failing!! It's probably because you're missing class all the time cos you're always hangover from all that chilling every night…and day. Your productivity at work is also failing and someway somehow you have an inconspicuous bottle of alcohol hiding in plain sight!
You reach for a drink whenever you're stressed.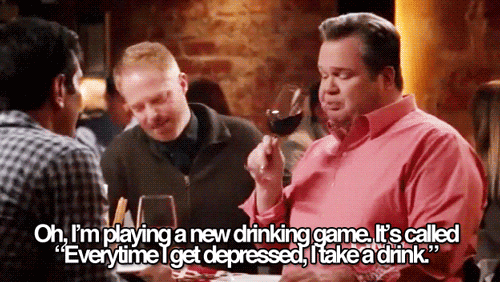 Now that your academics and work productivity are suffering and your boyfriend or girlfriend is always complaining, guess what? You've become so stressed that you constantly "need a drink" or need to go hang out with the guys/girls because you need to take your mind off things.
Constantly doing damage control.
You find yourself always moaning over one thing or the other you did when you were drunk. Maybe you said something hurtful to someone or you kept drink texting someone you shouldn't have or worse, you hooked up with someone you wouldn't have looked at twice if you were sober.
Alcohol is cool for that every once in awhile chilling, but remember that too much is damaging!!
So if you notice that you or a friend might really need that help, there are Alcoholics Anonymous meetings you can actually take part in.
On Legon campus, they meet on Fridays from 5-7 pm at the Counseling and Placement Center. It's free.
You can also go for free meetings at the Trust Hospital from 6-7 pm.
There are meetings at Christ The ing as well on Thursday mornings, from 7-8 pm
And on Wednesdays, from 7-8 am, you can join one of the sessions at Korle Bu.
There's also a session at the Accra Psychiatric hospital, at the new ward called the Serenity ward on Wednesdays 10-11 am.
You can also call or text Mike on 0262002857 for clarification and questions.
Have fun guys, but know that there's always a limit!
If you have a story you want to share with Kuulpeeps and the world, please send us an email to [email protected]