When 6ix9ine took the witness stand at the Nine Trey trial this week, he didn't hold back. Testifying against members of the Nine Trey Gangsta Bloods, and laying out the gang's organizational structure, 6ix9ine was extremely cooperative (even going so far as to name rappers like Jim Jones as members of the gang).
See Also: The Rapper, Tekashie 6ix9ine Started His Snitching Spree In Court Yesterday
Although the charges against 6ix9ine carry a mandatory minimum of 47 years in jail, he agreed to cooperate with the federal government, which means he could serve much less time. If the government agrees that he was entirely truthful on the witness stand, he will be granted a 5K1 letter with a reduced sentence.
During his second day on the witness stand, 6ix9ine said he expected to be freed by early 2020 because of time served.
Of course, by being so cooperative, he undoubtedly angered members of Nine Trey, who might seek revenge. So when he does return, 6ix9ine's future is unclear. Will he enter witness protection and we'll never see him again? Will he try to continue his music career, despite the risks to his safety that might entail?
Now that 6ix9ine's three days on the witness stand have ended, here's a look at the rapper's options after sentencing (assuming he avoids substantial time in jail) and the likelihood of each.
Enter witness protection and abandon music completely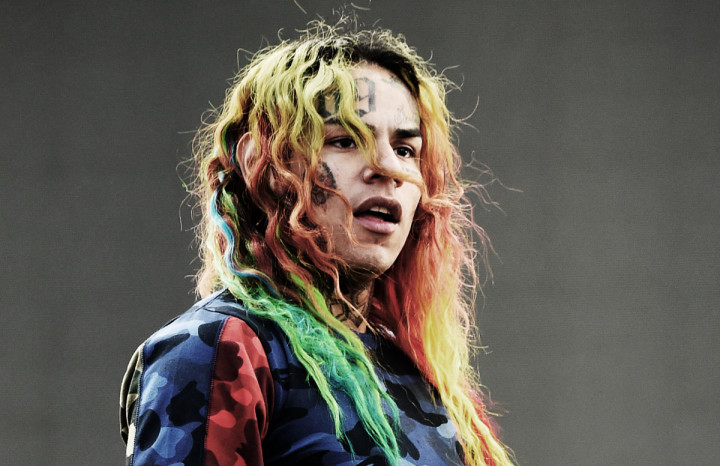 The threat against 6ix9ine's safety after he cooperated at trial is very real, and his best chance to avoid retaliation from Nine Trey members is to completely disappear. To do this, he would need to enter the federal witness protection program, relocate from New York City, assume a new identity, and attempt to remove his recognizable face tattoos.
This is his safest option. The program is extremely effective at protecting high-risk witnesses, and the U.S. Marshals Service says that "no Witness Security Program participant, following program guidelines, has been harmed or killed." If 6ix9ine chooses this option, we would never hear from him again and his music career would be completely over. —Eric Skelton
Enter witness protection and attempt to release music from hiding
If 6ix9ine opts to enter the witness protection program, he could potentially figure out a way to get new music to fans. He would need to do it in secret, and this option would likely violate the program's guidelines. But there is a precedent for people in witness protection who have released books and other material, so we can foresee a future in which 6ix9ine finds a way to leak a song (or somehow get it in the hands of his label).
This would allow him to conceal his identity and location from anyone who wanted to harm him, and he would be able to stay with his daughter while still giving himself a chance to deliver music to fans (although it would be a riskier option than completely disappearing). Of course, since he would be in hiding, touring and live performances, where artists make most of their money, would be impossible. He also wouldn't be able to use social media, which was a driving force in his career, and his credibility would be destroyed in the wake of his testimony.
The music released from hiding would draw intrigue and attention at first, but it's unlikely he would be able to sustain a career this way. —Jessica McKinney
Attempt a scaled-back music career
If 6ix9ine declines witness protection and attempts to continue his music career in some form, he might try to reduce the danger by scaling down his day-to-day visibility. Showing up in public spaces would be very risky, so (similar to the previous option) he wouldn't play live shows or make other appearances, but he might try to promote his music by conducting interviews from undisclosed locations or collaborating with other artists and producers.
But it would be very difficult for 6ix9ine to completely protect himself from all retaliation attempts over an extended period. Other witnesses in similar (but much less public) cases have admitted to being targets of retaliation after testifying against gang members. And there is a history of gang members relaying instructions to murder government witnesses.
As far as his career prospects go, 6ix9ine has been labelled a snitch, so he would be unable to act as loudly and boldly as he did on social media before the arrest, which likely means he would lose much of his fanbase, even if he managed to avoid attempts on his life. —Eric Skelton
Attempt to continue his music career as if nothing had happened
If he returns home in 2020, like he thinks he will, the most dangerous (and least likely) outcome would be for 6ix9ine to resume his career as if nothing had happened. The potential for a disastrous end far outweighs the positives here. This would allow him to be close to home, use social media, and release music, but with a reputation as a snitch following him, it could conclude violently.
Before the trial began, there was heavy criticism of 6ix9ine's cooperation with the Feds, and with more details concerning his testimony being revealed over the past week, the disapproval has gotten even louder. He has put a large target on his himself, and although his core audience might not turn its back on him immediately, he still has to answer to the hip-hop community, as well as people with gang affiliations.
His status in rap wouldn't be the same, either. YG, 50 Cent, Meek Mill, Bobby Shmurda, and more have already branded him a rat. But, again, this goes beyond rap.
In February 2019, Boosie predicted that 6ix9ine would "be murdered less than a month after [he was] released," noting that he also put "his family in grave danger for life 'cause of this BS." The rapper has upset networks of gang members who live by a code, and without the protection of Nine Trey, he is now more vulnerable than ever. In the end, 6ix9ine could try to replicate his pre-trial career, but it wouldn't be the same and could result in fatal consequences. —Jessica McKinney
Source: Complex
If you have a story you want to share with Kuulpeeps and the world, please send us an email to editor@kuulpeeps.com