The Gender theorist, Kate Bornstein has defined Gender fluidity as the ability to freely and knowingly become one or many of a limitless number of genders, for any length of time, at any rate of change.
When someone considers themselves as non-binary, they are basically referring to themselves as gender-fluid because they are neither one of the binary genders…male and female.
Most people who realize they are gender fluid have realized that the pronouns 'he' and 'she' which are used because of the binary genders, male and female do not really apply to them because they do not really fall in any of the categories. They are sort of floating between the genders and will much rather be called 'they' or 'them' which is more inclusive!
In Ghana, no one has really openly come out as gender-fluid maybe because the conversation is quite touchy here but in the Western world, a lot of celebrities have come out to openly discuss and talk about their genders.
Sam Smith
Sam Smith just recently announced to the world to call him 'They' and, not 'he' as he…sorry, they don't really consider themselves as a 'she' or 'he'. They put this out on social media with the caption  "After a lifetime of being at war with my gender I've decided to embrace myself for who I am, inside and out."
See Also: Sam Smith Wants To Be Referred To As 'They' not 'He' After Coming Out As Non-Binary
Ruby Rose
Most of you know her from her role in the popular show, Orange Is The New Black! She's an actress and a model and in an interview with Elle, she said: " I definitely don't identify as any gender. I'm not a guy; I don't really feel like a woman, but obviously I was born one. So, I'm somewhere in the middle, which – in my perfect imagination – is like having the best of both sexes."
Amandla Stenberg
We know Amanda for her roles in The Hunger Games, Everything Everything and her iconic role in The Hate U Give. When asked about her preferred pronouns, Stenberg responded, "I honestly don't know…I mean they/them makes me feel comfortable but I know that the media and the general populace that follows me will critique it/not understand which makes me feel sad and almost more uncomfortable. So I guess she/her for now."
Angel Haze 
She's a rapper and a model.  Angel Haze identifies as agender, and told BuzzFeed in March 2015, "To be honest with you, I'm not really a girl…If anything I'm more on the guy end of the spectrum." In response to a Tweet from a fan in February asking about what pronoun she'd rather use, Haze responded, "they/them"
Miley Cyrus
Miley Cyrus doesn't mind being called She or her but, she has come out to say that she does not assign any gender to herself. She has said before that "I don't relate to being a boy or a girl, and I don't have to have my partner relate to being a boy or a girl."
Jaden Smith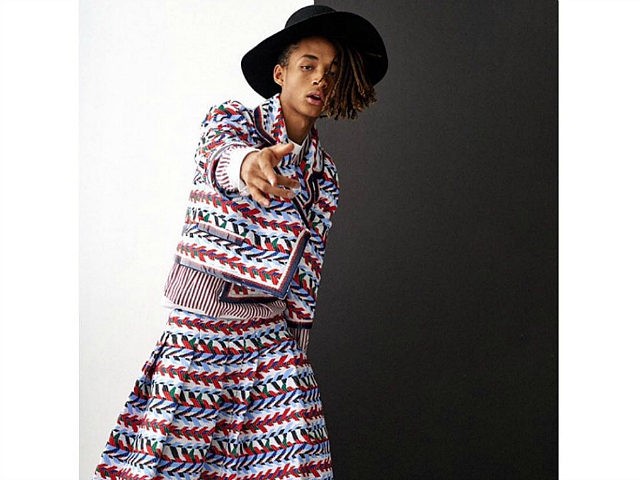 Jaden Smith is here but he hasn't really said anything with certainty yet about being called a 'they' or 'them' Jaden has worn skirts and dresses to public places and was even the face of Louis Vuitton's Womenswear. He once said he was taking the brunt of it all, all the ridicule so that "you know, in five years when a kid goes to school wearing a skirt, he won't get beat up and kids won't get mad at him"
With the rise in the number of people identifying as gender-fluid, the Merriam Webster dictionary has added a new definition to the pronoun They and Them to better satisfy people who identify as non-binary.
See Also: Merriam-Webster Adds Non-Binary Pronoun 'They' To Their Dictionary
If you have a story you want to share with Kuulpeeps and the world, please send us an email to [email protected]