African leaders have hailed Zimbabwe's former president Robert Mugabe as a liberation hero at his funeral in the national stadium in the capital Harare.
Current Zimbabwean President Emmerson Mnangagwa called him a visionary and said: "our motherland is in tears".
However, the 60,000 capacity stadium was only a quarter full.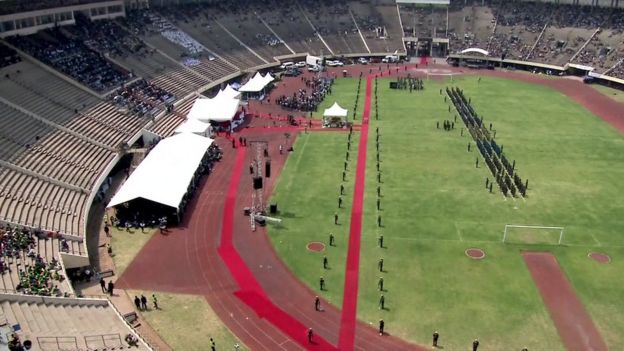 The country's economy is in crisis and many Zimbabweans said they would shun the ceremony because of the repression that marked Mr Mugabe's later rule.
Soaring inflation and unemployment grip the country and some blame this on the former leader.
"We are happier now that he is gone. Why should I go to his funeral? I don't have fuel," a Harare resident told AFP. "We don't want to hear anything about him anymore. He is the cause of our problems."
See Also: 5 Ridiculous Things Robert Mugabe Did While In Power
The funeral follows a row between the Mugabe family and the government over his burial.
Mugabe, who was 95, died last week while being treated in Singapore.
Source: BBC.com
If you have a story you want to share with Kuulpeeps and the world, please send us an email to [email protected]