Some people are phenomenal, showing there is nothing ordinary about them.
Thomas A. Moorehead is one such of men. As of 2018, he had made history as the first African-American to own an ultra-luxury Rolls-Royce dealership in America.
This is a special feat as Rolls-Royce, depending on the model and the features can sell from $250,000 to $550,000, putting it way beyond the pockets of many blacks and whites, as well as, males and females.
Moorehead has also served as the chairman of the National Association of Minority Automobile Dealers.
He was born in Monroe, La and earned a bachelor's degree in business administration from Grambling State University in 1966. He earned a master's degree in social work from the University of Michigan in 1977. He also belongs to the Baltimore Chapter of the National Guardsmen Inc., the Northern Virginia Chapter of Sigma Pi Phi and Kappa Alpha Psi fraternities. He's also a 33rd degree Mason.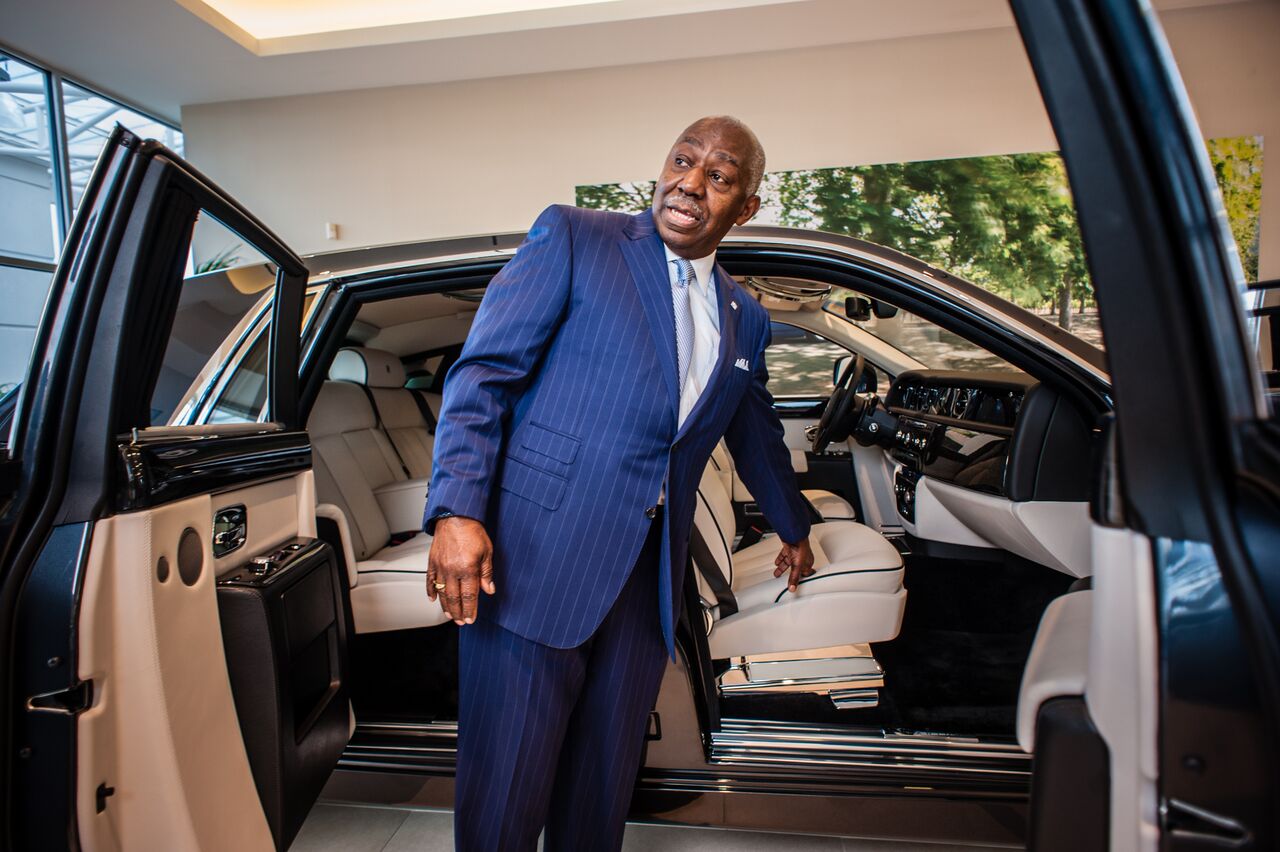 But how did it all begin?
Perhaps, he wouldn't be in car dealership had a mentor and fraternity brother James Bradley not nudged him on in 1988 to give car dealership a try.
Although initially hesitant, Moorehead recalls adjusting his professional plans, humbling himself and working hard for Bradley. He learned the business from his mentor, rotating through every element of the dealership from sales to service to gain a better understanding of how a dealership operates.
"Sometimes you have to take a step back in order to take a step forward. If you want to get in this business, you have to be willing to start at the bottom and work your way to the top. Learn everything you can about your business because you never want to be held hostage by any of your managers. If you have to let someone go, you have to be able to step in, do the job and take it to the next level until you get someone to replace that individual."
He would start by purchasing a Sentry Buick and Isuzu in Omaha, Neb, owning that for nine years. In 1995, he opened Moorehead Buick-GMC in Decatur, Illinois, owning that for four years before jumping to Northern Virginia with his BMW and Mini Cooper dealership.
As General Motors launched their Minority Dealer Development program, Moorehead was selected as one of six candidates who participated in their first in-house training class, graduating to own multiple Buick, Isuzu and BMW dealerships in Nebraska and Illinois prior to starting Sterling Motors in 2002 in the Southeast.
As the President and CEO of Sterling Motor Cars which he formed, Moorehead also acquired Lamborghini and McLaren to add to his suite of luxury automotive dealerships. With that acquisition, Moorehead became the first African American Lamborghini and McLaren dealer in the history of both brands. Prior to this achievement, Moorehead was also the first African American Rolls Royce dealer in the world.
Sterling Motor Cars, established in 2002, matches sport and luxury vehicle enthusiasts to new and preowned brands in over 115,000 square feet of state-of-the-art showrooms. With locations in Sterling, Virginia, and Fort Washington and Oxon Hill, Maryland, Sterling Motor Cars is the leading provider of luxury cars in the Washington Metropolitan Area, as well as, in Delaware and Southern Pennsylvania.
Luxury brands include BMW of Sterling, Lamborghini Sterling, McLaren Sterling, Rolls Royce Motor Cars Sterling, Mini of Sterling, Harley-Davidson Washington, DC and Harley Davidson National Harbor.
Moorehead credits his continued growth to the importance of having a quality team of professionals dedicated to customer experience and satisfaction. "Product, location and people are essential. Identifying and hiring good people is the key," said Moorehead. "I always tell my employees that the boss in the store is not Tom Moorehead. It's Mr. & Mrs Customer. Without them, we might as well lock our doors."
Before becoming a businessman, Moorehead was an analyst at Mobile and Chrysler corporations and director of community services at the University of Michigan.
With his success, he was appointed by then-Governor Mark R. Warner to serve on the Virginia Automobile Dealer Board in 2005, serving two terms.
Being successful in the car dealership business is one thing but sharpshooter Moorehead wasn't done yet.
In 2006, he bought the Marriott Residence Inn in National Harbor, Md. Since then, he has soldiered on acquiring eight hotels nationwide.
In addition to being the largest luxury car retailer in the region, Sterling Motor Cars is committed to the community. The Joyce and Thomas Moorehead Foundation, established in 2004, has provided scholarship and emergency relief to well-deserving high school students, as well as, made donations to the National Museum of African American History and Culture.
That's how the boy whose father wished for him to become a teacher became a military man briefly, as well as, a businessman and a leading car dealer who took his philanthropic duties seriously.
After nearly two decades as CEO and president of Sterling Motorcars, Thomas Moorehead passed the keys to Paul White, a Texas native and president of the Dallas-Fort Worth market for AutoNation, as his successor. Moorehead remains chairman and owner of the dealership.
source: Face2Face Africa
If you have a story you want to share with Kuulpeeps and the world, please send us an email on [email protected]