Wet n Wild tweeted a teaser of their new palette from Ru Paul's DragCon in New York City that the "40 Palette" is due for release in the fall.
First look at our NEW 40 Palette. Available exclusively at @RuPaulsDragCon NYC. Coming to https://t.co/DfcILGjYdk Fall 2019. #wetnwildbeauty #wetnwild40palette#dragcon #dragconnyc pic.twitter.com/xFsb4kM0R6

— wet n wild beauty (@wetnwildbeauty) September 7, 2019
This sparked controversy since it has the same colours as the Youtuber James Charles' Morphe palette which was released last November.
Wet N Wild tweeted their palette will be priced between $25 and $29 but James Charles' own is $39.
Placed side by side, there are a lot of obvious similarities and it wasn't long after that people started calling Wet N Wild out.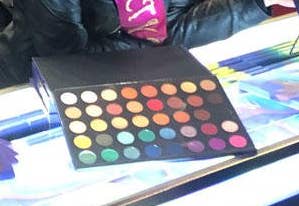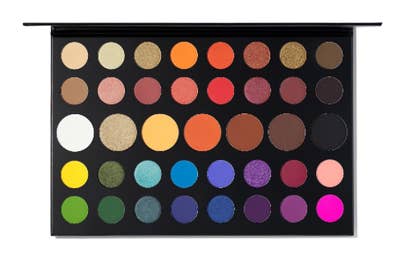 Wet n Wild spoke to fans explaining that they're a drugstore and so, do "dupes" of different brands.
We're a drug store brand, Sierrah. As such, we develop dupes alongside our own product.

— wet n wild beauty (@wetnwildbeauty) September 7, 2019
Wet n Wild continued to explain that James Charles' Morphe palette was bought from a manufacturer where products are created for plenty of different companies and so, the idea wasn't stolen, to begin with.
The James Charles x Morphe palette was purchased by Morphe from Jiaxing Huasheng Cosmetics.

— wet n wild beauty (@wetnwildbeauty) September 7, 2019
This caused  James himself then got involved with Wet n Wild asking them to stop causing "drama" and giving information "out of context".
You're tweeting information out of context to start drama, this is beyond unprofessional. Jiaxing Huasheng is the manufacturer that produces my palette, which I designed and formulated myself. Every company has a manufacturer that they "buy" their stock from, including you.

— James Charles (@jamescharles) September 7, 2019
A number of people were on James' side…
…but the others bashed him saying that he does the same with other smaller influencers when he steals their ideas.
We are waiting to see if there'll be more tea to be dropped on the TL so we serve it to you as we usually do.
If you have a story you want to share with Kuulpeeps and the world, please send us an email on [email protected]