A trip to Cape Coast is definitely warranted to make your travel to Ghana complete. Cape Coast is the capital city of the Central Region. Until 1877, when Accra became the capital city of Ghana.
Cape Coast is the famous Ghanaian city of Education. Many of the prominent men and women and Academicians hail from Cape Coast. Tourist attractions in the city are another reason why visitors and tourists cannot get enough of Cape Coast.
It's usually calm in this town. The people do not rush, they do their things at their own pace. You will love its history and beautiful beaches.
When is the best time to visit Cape Coast?
My answer to this is always the same. It depends on your interests. Do you want to experience the city's historic landmarks and lifestyle? or you want to delve in its nature feels? You may want to consider the raining season as you plan your trip to Cape Coast which is from May-July. This can be distractive sometimes.
Are you more interested in the culture and traditions of the people? Then you don't want to miss their festive season which is a week-long celebration from the last week of August to the first week of September each year and Bakatue festival in Elmina in late July.
The famous festival of the People is the Oguaa Fetu Afahye. It is also a period of a homecoming for the citizens in the diaspora and different parts of the country. From the pouring of libation to the lesser gods to one of West Africa's biggest street carnival, Orange Friday, it promises so much fun.
How to get to Cape Coast
Travellers from Accra can enter the city through the Kasoa-Winneba road. Travellers from Takoradi can also use the Cape Coast –Takoradi route to the Central Regional capital.
You can access private commercial Air-condition buses from Kaneshie main station "loading" to cape Coast if you're travelling from Accra. Normally if the bus you're picking is saying 11 seater bus, it will be filled with 11 passengers before it can take off. The period of waiting for the bus to be filled up is the loading time.
Ford buses charge GH₵ 25.00 ($5.00). The Metro Mass (government-owned) charges GH₵ 13.00 for buses without Air-condition and GH₵ 17.00 for newer air condition buses.
*All prices as at April 2019 and may increase in the future*
You can also access private vehicles usually a salon car which cost somewhere between GH₵ 200-300 using a taxi and GH₵ 300 -500 using an established transport company.
Now to my favourite part of travelling. Locating good food joints and top restaurants to taste unique local cuisines.
Where to find top Restaurants in Cape Coast?
Local Ghanaian dishes are cooked and served fresh in most restaurants in Cape Coast as access to fresh and organic foodstuffs come in handy for the township.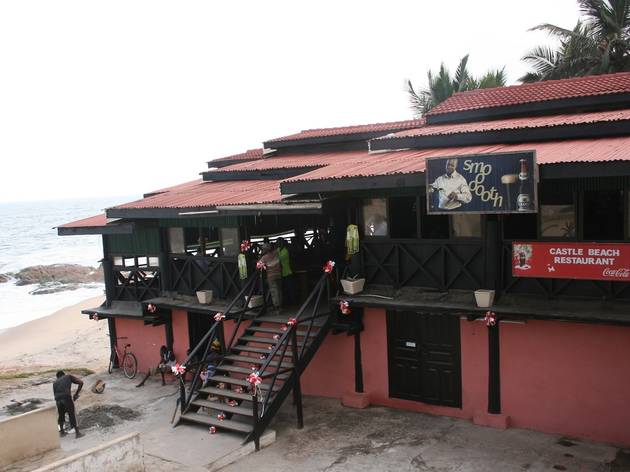 Aside from the 5 budgeted traditional restaurants, there are other bars and restaurants with great customer service to branch to on your trip to Cape Coast. While in town taste some of the most popular street foods: Banku with grilled tilapia and Fried Rice with grilled chicken. Read my article on Tasty Ghanaian foods to get more ideas on types of food, their ingredients and prices you can choose from.
Where to shop in Cape Coast?
You must know the right places in the historic city that offer a chunk of good stuff on sale to make your purchases so that exploring the city becomes easy. The most popular and reliable ones are:
Kotokuraba Market: For assorted and traditional shopping, the Central market, kotokuraba, near the Mfantsipim Secondary School, is your destination. It predicts the vibe of the people of the city as well. The market provides a wide range of goods.
Sonturk Supermarket– Opposite Post Office Market Road, Kotokoraba. It is a popular and well-patronized supermarket in the Cape Coast Metropolis. Note that they do not have a parking space.
Melcom Department Store:  As Ghana's largest chain of retail department stores, Melcom is home to thousands of products and hundreds of well-known brands. It is located in the Old Kingsway Building.
Where to go – Tourist sites to visit
Travellers rave so much about the beaches in the Central Region as a must-visit. And I stand with them. I always say whenever you hear coastal belts, fun is most definitely assured and cape coast is no exception. There are quite a number of sites to visit.
The stunning beaches, historic slave castles, fascinating fish markets, budgeted resort destinations, boat rides, fine restaurants, rich natural activities like hiking and canopy walks. The list continues. All the reasons you can't skip Cape Coast while in Ghana.
Nightlife in Cape Coast
Hacienda Plaza: Located at London Bridge, Former Blue Cheese. It has a quiet ambience during the day but it is always loud at night especially weekends. It is a restaurant by day and well…a night club at night.
Oasis Beach Resort: It is the most popular backpacker and volunteer hang out with the party going on late into the night. A night at Oasis is usually loud and fun hot. This resort is located on the beach with a nice ocean view from its restaurant.
Ngwa Night Club (inside Elmina Beach Resort) – Immerse yourself in the culture of music and sophistication at Elmina's Ngwa nightclub with a variety of soundtracks. To cool off from the heat of the music and dance, you can step out to enjoy the beachfront just behind the club inside Elmina Beach Resort. The Ngwa club takes you from juggling to the blending of the choicest local and imported liquors.
Sahara – karaoke nights: Located at Chapel Square behind the Wesley Methodist Church and opposite the heritage gardens is this edifice of an entertainment hub. They serve delicious local and continental dishes and it is the only pub that delivers on weekend karaoke nights in Cape Coast.
They are opened each day of the week from 11:00 am to 11:00 pm. Sahara pub is about 3 minutes walk from the famous Cape Coast Castle, the beach and the African art market. Enjoy the good Ghanaian music, the nice view and fresh air from the top.
Now you have all it takes, except your money of course, haha, to explore a culture that has its roots in another era, relax on an open fresh beach or enjoy the dynamic music and make your trip to Cape Coast easy and fun.
Source: ohhyesafrica
If you have a story you want to share with Kuulpeeps and the world, please send us an email on [email protected]