At least, for now …
Body art is full of meanings and symbolism for the individual who gets them, and tattoos have long been popular with musical artists as another way to express the unique sense of style and personality you hear through their music.
Post Malone, who's new album Hollywood's Bleeding is scheduled to drop on Friday, September 6, is just one of many famous rappers/singers/hip-hop artists who've chosen to cover large portions of their bodies with tattoos.
To date, he has at least 41 we could make out, although it's probably a safe bet to think he may be hiding, and soon getting, some more.
Malone, who got his rapper name by putting his real name — Austin Richard Post — into an online rap name generator, told GQ all of his tattoos are products of "spur of the moment" decisions.
"Justin Bieber was the guy that inspired me to get tattoos because we were in the studio and I was like, 'Hey, man. Does that hurt?' Because that's when I first had just met him, and he was like, 'No.""
If you want to know which tattoos Post Malone has in personal ink collection, you've come to the right place.
Here is a list of every tattoo we currently know exists on Post Malone's face and body, including pictures, meanings and symbolism of some of our (and his) favourites.
Face tattoos:
1. Small Playboy bunny under his right eye
2. The smiley face under his right eye
3. Small heart on his right cheek
4. Claymore sword on the right side of his face
Post joked that this special weapon, "dedicated to his love for medieval props … would beat out the dagger-happy obsession of 21 Savage," with whom he toured during the European leg of his beerbongs & Bentleys tour.
5. Playing cards on the right side of his forehead
6. Japanese "etchings" on the left side of his face
Per an article on Beat, Malone had this one done by a tattoo artist in Tokyo known as Ganji.
7. Barbed wire on his forehead
8. "Stay away" above his right eye
Malone told TMZ that he got this tattoo on his face to make his mom mad.
"I kinda just wanted, I don't know, to piss off my mom," he said. "I know she's really upset but I love you so much, Mama. You're the best. I'm sorry."
Other than that, he said the words aren't literally directed to tell people to keep their distance from him. They're simply song lyrics, he says.
"I figured, how ignorant can I be and just f****** tattooed my face, you know what I mean, and just have fun."
9. "Always tired" on his face
Speaking with Tim Westwood at the Wireless Festival in July 2018, Malone said, "I tried to do something that's relatively the same length of letters [under each eye]. But I guess always is more letters than tired … but I was tired, so I didn't realize."
"Any more for the face?" Westwood then asked.
"Oh, hell yeah," Malone replied, "Oh, it's coming … Face for radio, so why the — not? I figure it makes me interesting. Plus, I live in Salt Lake City, so I like to piss off the Mormons."
Hand and finger tattoos:
10. Barbed wire on his knuckles
11-17. Portraits across seven of his fingers
Malone has portraits of seven of his favourite artists — Elvis Presley, Kurt Kobain, Dimebag Darrel, John Lennon, Stevie Ray Vaughan, George Harrison, and Bankroll Fresh — on seven of his fingers as inspiration.
Without them, he "wouldn't be making music right now," Malone told GQ.
18. Grizzly bear head on his right hand
19. John F Kennedy, Jr. on his left hand
Feeling patriotic, Post Malone let tattoo artist Victor Modafferi ink his hand with an image of John F. Kennedy, Jr.
Already inked with celebrities that he claims inspire him, he believes JFK "was a guy that everyone should model their Americanism" after, and Malone loves America.
20. "Rest easy" spread across his fingers
21. Saint Jude and his inner demon on his left hand
22. A knight fighting in a battle on his right hand
23. Cartier Love bangle screw on his finger
The rapper is obviously a fan of the French jewellery company Cartier.
He took the initiative to tattoo a screw from the iconic Cartier Love collection design on his finger, calling it "the most painful" tattoo of his life and saying it felt like it was "tattooing his soul."
Arm tattoos:
24. An M16 encircled by a Gadsden 'don't tread on me" rattlesnake on his left arm
This tattoo is in honour of the second amendment, i.e., the right to bear arms.
25. Lil Peep's face on his left arm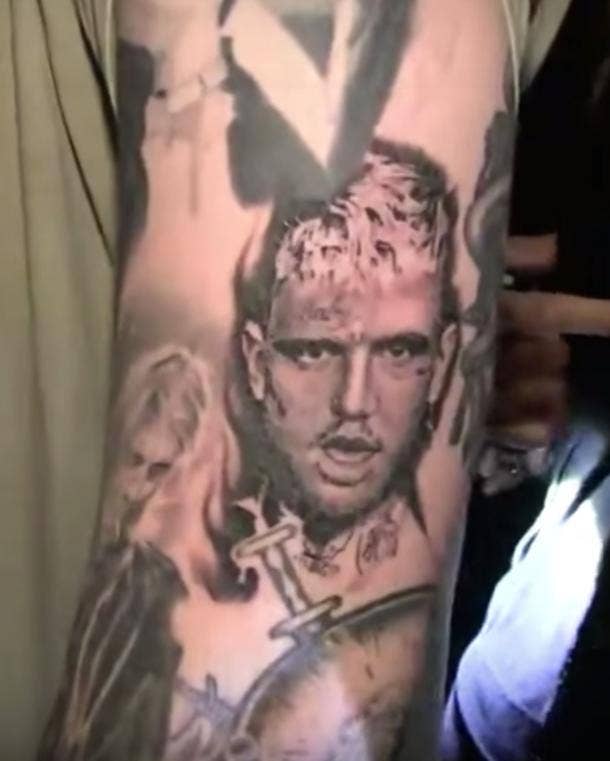 Rapper Lil Peep died back in November of 2017. He and Post Malone were friends and in honour of Lil Peep's life, he tattooed a picture of him on his shoulder.
Malone told TMZ, "This man was going to change music forever, and his music is going to live on forever."
26. Johnny Cash on his left arm
27. Praying hands with a gun on his right arm
28. Himself as a knight riding on a white horse on his right forearm
Inspired by Steve-O, who infamously has a tattoo of his own face on his back, Malone found a picture of a knight riding a horse online and replaced the man's face with his own.
29. "So far, so good… so what" on his left forearm
30. Stone cold skull with the Texas flag and a gold grill on his left inner forearm
31. Gadsden rattlesnake on his left forearm
32. Playboy bunny on his left forearm
This was Malone's first tattoo.
"My first tattoo was this Playboy bunny right here. I was playing basketball with Justin Bieber and while it was healing, and he just messed up the whole thing. But it still looks kind of tight. it looks like magma. Justin did apologize but he's gonna have to buy me a new one."
33. World War I soldier on his right forearm
Leg tattoos:
34. Fallout Vault Boy tattoo on his left leg
35. Skull tattoo with Cherokee headdress on his right leg
Neck and upper body tattoos:
36. Eagle tattoo on the neck
37. Bison skull tattoo on his throat
38. Dagger or sword through his collar bone
39. Jesus on his chest
40. Skull and crossbones on his left ribcage
41. "Come and take them" in Greek across his stomach
As explained on Reddit, "It's Ancient Greek. 'Μολών Λαβέ' meaning 'Come and take them' as someone already said before me. It was said by Leonidas when King Xerxes demanded that the Spartans surrender their weapons. The phrase is also the emblem of the I Army Corps of Greece and the Second Infantry Division of Cyprus.
P.S: I just now found out that 'Come and take it' was used in the Texas Revolution as well, so that explains why Austin has the phrase tattooed on him."
Source: yourtango.com
If you have a story you want to share with Kuulpeeps and the world, please send us an email on [email protected]