Just as your favourite player is on the pitch, the club's mascot is said to bring some luck to the team.
They serve as entertainment and it's also a marketing strategy for the team with the coolest mascot.
They give a lot of hugs and also serve as an intimidation to the opposing team. Now the big question is does your team have a mascot?
Don't come for our heads if your team is not on the list. We used Forbes current ranking for best teams.
So if you have any problems kindly refer to the source.
Real Madrid
They don't have an official mascot. We know right with all their hype they should have something representing them
F.C Barcelona
Their mascot is L'avi del Barça (Grandfather).
But you probably might be seeing this on the field.
Manchester United
Fred the Red
The current Manchester United mascot, Fred the Red represents the club's nickname, The Red Devils. He wears a shirt with the number 55 on it and usually dances in front of the crowd before matches.
Bayern Munich
Berni (a bear)
Manchester City
Moonchester 
An awkward portmanteau of "moon" and "Manchester" gave birth to Manchester City's representative. Moonchester laboured back-story is that he's an alien from the Blue Moon who "heard signals about a great football club" and somehow followed them to Maine Road and, subsequently, to title-winning success at the Etihad Stadium. Despite the obligatory giant head, he has a girlfriend – Moonbeam.
Chelsea
Stamford the Lion
Chelsea fans are very noisy, so what better way to show that by having a lion as their mascot?
Stamford the Lion has the honour of meeting and greeting young fans and has been joined by his partner Bridget since 2013.
Arsenal
Gunnersaurus Rex
Arsenal's dinosaur mascot is arguably the most famous in the Premier League. Most football fans will recognise Gunnersaurus as the larger-than-life dinosaur who has been Arsenal's mascot since 1994.
Liverpool
Mighty Red- Since 2012
The liver bird, normally represented by a cormorant, is a symbol for all of the city of Liverpool. As such, the decision to have one as Liverpool FC's mascot is something of a no-brainer.
Mighty Red is Anfield's good-luck charm and is sometimes depicted holding laver seaweed in its mouth – a pun on "Liverpool". Well, it's no more a pun after winning it this year.
Tottenham Hotspur
Chirpy Cockerel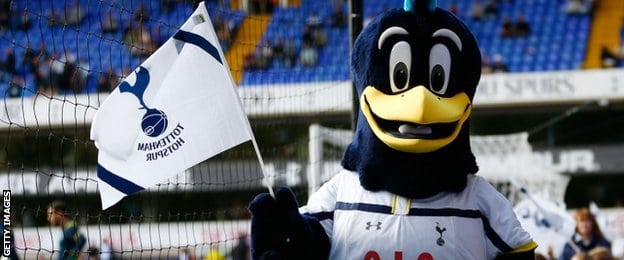 Tottenham Given Harry Hotspur's love for cockfights, Spurs decided to make Chirpy Cockerel the official mascot for the club. The cockerels have been a part of the club's emblem since the year 1901 and are inspired by the bird on Tottenham Hotspur's crest.
Juventus
J.J
Juventus also introduced a new mascot in 2015 to all its fans called J. J is a cartoon-designed zebra, black and white stripes with golden edge piping on its body, golden shining eyes, and three golden stars on the front of its neck.
Now don't get surprised when you see one of these mascots on the pitch. You will know what they are for.
Let the Games begin!!!!!
If you have a story you want to share with Kuulpeeps and the world, please do hit us up on Facebook, Twitter, Instagram