Frankly speaking, we've come a long way cuz the things we are about to show you will cause you to shake your head in shock and ask, really??
Appearance has always been a big deal for people, but sometimes fashion or even traditions have been taken a bit too far.
Without much ado, here are 5 insanely weird and bizarre things that people used to do all in the name of fashion, style and beauty.
Mud bath in crocodile excrement
Whew… and this is just the first one. Some people believe that mud can be therapeutic and relaxing for the skin, joints, and muscles, but the ancient Greeks and Romans were way more extreme. They believed that animal excrement had the potential to slow down the ageing process so they mixed mud and crocodile poop and they used to bask in it.
Urine for teeth whitening
Bruh!!
White teeth were a sign of good health and wealth in the olden days. Ancient Romans whitened their teeth using urine. The ammonia in the urine was the bleaching agent.
Lotus Feet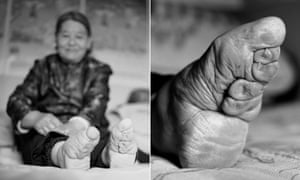 In the 10th Century in China, an Emperor, Li Yu, asked his dancer, Yao Niang to bind her feet in a moon shape and dance on the points of her feet. He was so impressed and the other dancers too went ahead to do same. Soon after, almost all the women had bound feet and if you didn't have some, you would be judged and had a slim chance of getting married. Get this; the most desirable bride had a 3-inch foot, a 4-inch foot was ok, while a 5-inch foot was close to disaster.
Removing ribs for a smaller waist
To be fair, people still do this and claim it's because of the corsets they were but then again… we don't know so…
Teeth Blackening
This is just plain weird.
During the 18th Century, only the rich could afford to eat all the sugar they wanted and so their teeth went from white to black. When the middle and lower class people saw this, they decided to blacken their teeth to "show" that they were rich enough to also buy sugar so much that, it even rotten their teeth. Sigh!!
Which of these shocked you the most?
If you have a story you want to share with Kuulpeeps and the world, please do hit us up on Facebook, Twitter, Instagram