A student at Harvard University is suing Ugandan President Yoweri Museveni for blocking him on Twitter after he referred to him as a "dictator" and urged him to step down.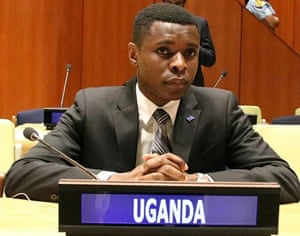 Hillary Innocent Taylor Seguya claims that by blocking him, Museveni has barred him from partaking in online conversation and is infringing his right against discrimination as guaranteed in the country's constitution.
Seguya also wants a permanent injunction restraining government spokesman Ofwono Opondo and the Police Director of Political Commissariat Asan Kasingye from blocking him on their Twitter handles
In his legal complaint, filed on Monday and published by the Guardian, Seguya said: "The[ir] actions did not protect my freedom against political persecution and [restricted my] rights, which are acceptable and demonstrably justifiable in a free and democratic society."
He has petitioned the civil division of the high court in Kampala, alleging Museveni's decision to block him as cowardly, illegal, procedurally improper, unreasonable and irrational.
In comments reported by All Africa, he said: "As a Ugandan citizen living abroad, I am only capable of getting information relating to country's governance and communicate to the respective officers including the President through their respective Twitter handles."
Mr Seguya is now seeking an order to be unblocked and is also seeking general damages for the inconvenience caused. He has also appointed his lawyer Male Mabirizi to represent him as he is not in the country.
Critics say Museveni has been in power since 1986 and is becoming increasingly intolerant of dissent as resistance to his rule grows.
Source: Huffingtonpost.com
If you have a story you want to share with Kuulpeeps and the world, please do hit us up on Facebook, Twitter, Instagram