You need a dedicated place that is only about your fitness. You might keep the weight off and your heart pumping for a while. But here's the thing about flying solo with your fitness: it will never last. Because all of these things – the app-based exercise regime, exercise equipment crammed into a corner of your home, the little jogs through nature – make your training optional. And once your training is optional, you will, sooner rather than later, find other things to do. If you don't go to a gym, then you are entering the land of ten thousand excuses not to train.
The great lie that most men tell themselves is that they don't have the time to go to the gym. But you don't need that much time – as long as you sweat when you get there. As long as it is regularly. As long as you use your time intelligently when you are not in the gym. Reaching and maintaining your personal best takes just a handful of hours every week. As long as you spend as much time in the gym as you do in restaurants, I guarantee that you will be a fit man.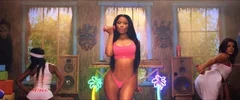 Over a decade or two, there will be times when you break your appointment at the gym. The death of a parent or the sickness of a dog is a reason to cancel. But you never cancel because you are too busy at work. That's not a reason. That's an excuse. There will be days you train with a hangover. There will be times when you are carrying an injury. But most of these knocks and niggles can be worked around. No matter how hard you work at the gym, the hardest thing of all is simply turning up. Getting fit is largely an act of will.
If you are wearing headphones in your gym then you are in the wrong gym. You will never stick with a gym for years if you don't like the music they play. And sticking with a gym is the only thing that remotely works.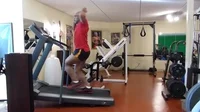 This is a serious relationship.
Shop around for the gym of your dreams. Don't give away your heart too easily. Find the right gym. Commit to your gym. Your relationship with your gym should last as long as a marriage.
You can't do it alone. Gym membership is not enough. You need a personal trainer or a training partner. It is infinitely easier to do 50 sit-ups when someone is on the next mat doing the same.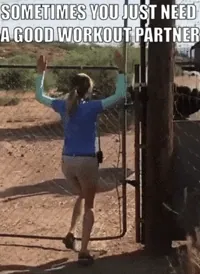 You should have a training kit that you only ever use in the gym. That is the only time it is ever touched. You should feel comfortable. You should feel inspired. But most of all, when you pull that kit on, you should feel ready to work.
You can't always sleep well the night before the gym. You can't always go to the gym without having some part of your body giving you pain. You can't always turn up without having work or family on your mind. You can't always train to feel at the top of your game. But what you can always do is avoid eating for four hours before a workout. Your gym will make you think deeply about what you put into your body, both before and after training.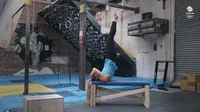 Park your ego at the door.
You will not look adorable when you have been pushed to your limit. You will be a sweaty, angered, furious person. But that is fine. You are not there to pull or admire yourself in the mirror. Empty your head of all ego and go to work, grasshopper.
You will not stay with your gym if it does not bring you joy. There are many hard things about serious training. The hardest thing of all is going back again when you know exactly what to expect when you know how hard you will have to work, when you are fully aware of how much it will hurt.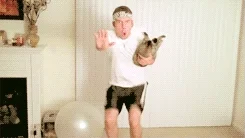 Before you shower, before you eat, before you check your social media, pack your bag for the next time. Because it never ends. That's the painful truth about fitness: you must accept that this is something you are going to have to do until the day you change your cosmic address. No matter how hard you train, no matter how much lactic acid you build up in those aching muscles, no matter how close you are to the edge of sickness, it is not yet done, because it is never done. To understand this cruel fact, pack your bag for the next session the moment you get home. Fitness doesn't just happen. Fitness has to be worked at.
Source: GQ
If you have a story you want to share with Kuulpeeps and the world, please do hit us up on Facebook, Twitter, Instagram