Black Star International Film Festival is a not-for-profit festival that seeks to create global connections through film. The festival is known for its insightful panel sessions, workshops, film screenings, mega music concert, and awards night.
For three years, the Black Star International Film Festival has been successfully organized with many participants all over the world still talking about the festival's impact in their lives, on their brand and also in the world of work. The fourth edition promises to be even bigger and here is why you should not miss it.
It's a great opportunity for networking and businesses as it attracts key stakeholders in the film industry that have influence across the value chain including Film directors, producers, media, writers, animators, agents from countries all over the world, who are seeking to network or sell, buy or invest in content and services in the media and film industry.
Over the years, BSIFF has successfully signed a Memorandum of Understanding with the Ministry of Foreign Affairs to ensure that Ghanaian embassies and missions show Ghanaian films over the world making the festival one of the highest prospects of shaping the future of the Ghanaian Movie Industry.
Check out the film schedules here:
BSIFF panel sessions are carefully crafted to bring you up to speed with very important and relevant issues in the industry. These sessions are known to inspire enthusiasm and necessary actions from participants through film labs and workshops. This year's training will be on the topic "Story Telling Through Cinematography" with renowned cinematographer Christian Epps.
Check out the schedule for all three days of the Festival and venues!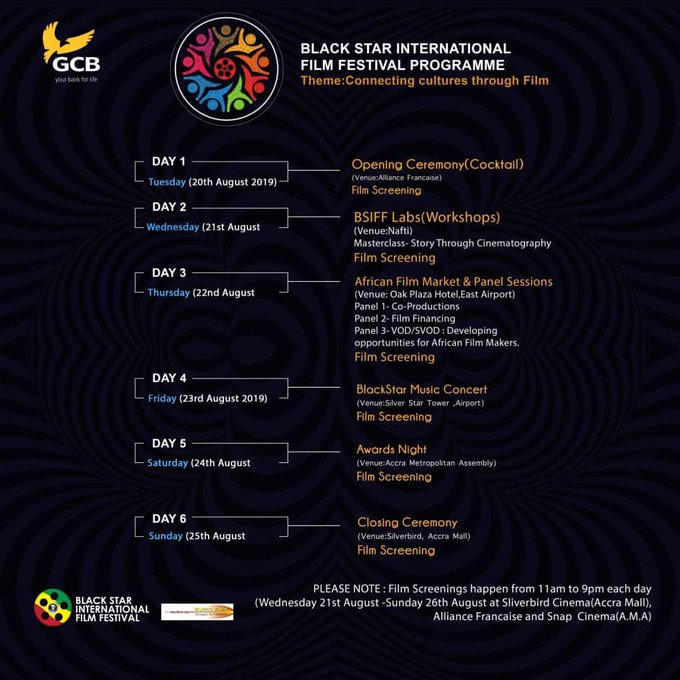 If you have a passion for film, then the festival is the place you should be! You can check out their website: Black Star Film Festival for more information on past events and more.
Source: Ameyawdebrah.com
If you have a story you want to share with Kuulpeeps and the world, please do hit us up on Facebook, Twitter, Instagram