When E.L and A.I said they'd be dropping an album together, we knew, everyone knew that there was no way it was going to be mediocre.
They dropped the first single and that's how we knew that these two are going to give us something exceptional.
Today, the album, aptly titled 'The Linkop' dropped with 7 tracks, each song, produced by E.L.
The intro which is also titled 'The Linkop' is fire. From E.L freestyling to the beat dropping for the song to start is exciting!!  The intro is all we needed to fuel our excitement over this album and that joke close to the ends of the track…smart joke lol.
'Ma Sumor bo' is a jammm and an easy favourite. It's that singing afrobeat E.L we met in 'Koko'. This song is going to blow no doubt cos it's everything the Ghanaian wants: a love song and a great beat. A perfect commercial song that sounds good.
A. I proved his versatility again on this album. No be small patois he killed in the songs! We first heard it in the intro and then he did his whole verse on 'Killa' in patois and showed us some more on 'Unbreakable.' Man's better drop a pure dancehall track soon because we are here for it!!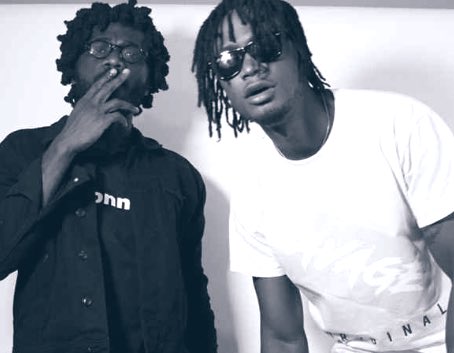 One song that snatched our attention was 'For 2'!!!!! What a song!! This song makes us so happy and maybe it's got to do with the message in the song. It's one of our favourite songs! It's got a bit of highlife in it which is A.I's playing field so you know he sang the hell out of the song!!!!!
As for Adwuma, we said all we could about that amazing track here: Here's Why We Think You Should Have E.L And A.I's New Single, Adwuma Stuck On Replay
One thing we love and noticed on the album is the fact that no one overshadowed the other. The two knew what works for them best and they allowed each other to flow freely where they had to.
The excitement and joy they probably felt when the linked up to create this album are palpable in every single song. It's so clear that they had so much fun.
We lowkey expected the album to sound a bit more different with E.L rapping more cos Lord knows we miss him doing that but these commercial sounds work perfectly too. The songs are fun and every single one has the potential to infiltrate every music space in Ghana!
We enjoyed the album as much as they enjoyed making it and we recommend it…10/10!!!
Get the song on all streaming platforms including Spotify, Apple Music, Deezer and oh you can buy it on Amazon music and enjoy it!
If you have a story you want to share with Kuulpeeps and the world, please do hit us up on Facebook, Twitter, Instagram