We are pumped up for the NEVER ENDING WEEKEND from Friday 26th to Sunday 28th July, 2019 and we are super excited.
It's the 8th Wonder of the world, Tidal Rave is definitely the right weekend getaway vibe.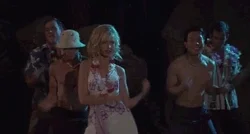 First of all, it's a Three Day Festival. The whole of this weekend is being dedicated to Tidal Rave and you can't miss it.
Previously the rave was just on the Saturday but after considering the Oliver Twist instincts in every Raver, this year's event will start from Friday to Sunday.
You would want to visit https://t.co/XwxiKUpw03 for your TICKETS and DISCOUNTED ACCOMMODATION for #TidalRave2019.

Don't Stress😏…Just follow the steps😉 pic.twitter.com/RfMWJiguDQ

— Tidal Rave (@tidalraveGH) July 15, 2019
Games, fun and More Games
Tidal Rave is stress relieving and you can't miss this fun for anything. After all the wahala you've been through let Tidal Rave take it all away. Games will range from paintball, bull riding and many more… 
To all the Foodies, you can't seem to miss this opportunity. The food vendors coming are just chaww!!!! like you will have a lot of options to choose from.
Just to mention a few… for the full list check here Tidal Rave
As the tradition stands, Saturday is the Rave, guess what….. there's definitely a Convoy. Like Tidal Rave always starts with the convoy because the fun starts from the convoy and you can't miss it.
It's a super Jaming night on Saturday!!! like see err it's going to be a madop szn. You have to be prepared to jam the whole night because the night is going to be littt!
Now the icing on the cake. The artistes performing all have the bangers you've been jamming to and they are bringing the jam to you in full force. You need to strap up better for the night
See Also: All Your Favourite Artistes Are Going To Be On The Tidal Rave Stage This July!! Take A Look At Some Of The Artistes Who Will Be Performing!
The Rave never stops!!!
If you have a story you want to share with Kuulpeeps and the world, please do hit us up on Facebook, Twitter, Instagram