A couple of days ago, our favourite dancer and Kuulpeeps' very own Emerger 2019s, Dancegod Lloyd took part in the #AlreadyChallenge and y'all know for a fact that it was lit!
#AlreadyChallenge is an online promotional campaign to promote Beyonce and Shatta Wale's song which is off The Lion King: The Gift Album called "Already." 
So dope!! But guess who else loves it?
Ava Duvernay!!!!!
Yhup, Ava Duvernay watched his video and she liked it!!!!
She commented on his video on Twitter a couple of days ago and look… this is so huge!!!!
So yes. I've watched all the videos for the #AlreadyChallenge and I'm really enjoying myself this morning. #Africa https://t.co/lvgqmeRWdN

— Ava DuVernay (@ava) July 21, 2019
Ava Duvernay is an American filmmaker who is also the first black woman to win the directing award in the U.S. dramatic competition at the 2012 Sundance Film Festival award. 
She's directed the award-winning show, "When They See Us", Oprah's "Queen Sugar", "A Wrinkle In Time" and more.
One other cool thing is, just in case you didn't know, she's Oprah's friend…practically besties with her too!!
Know what that means?
That means she probably looked at it, nudged Oprah and said "look" and they enjoyed it!!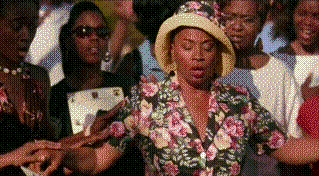 This is what it means when you hear someone say "GH to the world!!"
The fact that she mentioned she's been watching videos from the #AlreadyChallenge alone is big cos that means she loves the song and that's another plus for Shatta Wale!
Beyonce's album has opened a whole new portal to the talent in all of GH to the world in a very different way and we are EXCITED!!!
If you have a story you want to share with Kuulpeeps and the world, please do hit us up on Facebook, Twitter, Instagram