The BET Awards was yesterday and you probably know all the winners already right?
See Also: Beyoncé, Cardi B And Childish Gambino Win Big At The 2019 BET Awards. Here's The Full List Of Winners
Because you missed out on the show…we know most of you were busy dissecting the important beef that was cooking between Medikal and Strongman, we put together our favourite highlights from the show!
Burna Boy's win and his mum's speech!
Burna Boy stepped out to get a drink minutes before he won his award but…not to worry, Mama Burna was there to accept the award on his behalf and usual…this is a win for Africa!! Nahh, let's narrow it down to Ghana because we are Naija annex right? Lol, when Nigeria wins, we win too and we are excited for Burna Boy! His mum made a powerful statement that got her a standing ovation and well, everyone's talking about it on social media! she said "remember that you were Africans before you became anything else"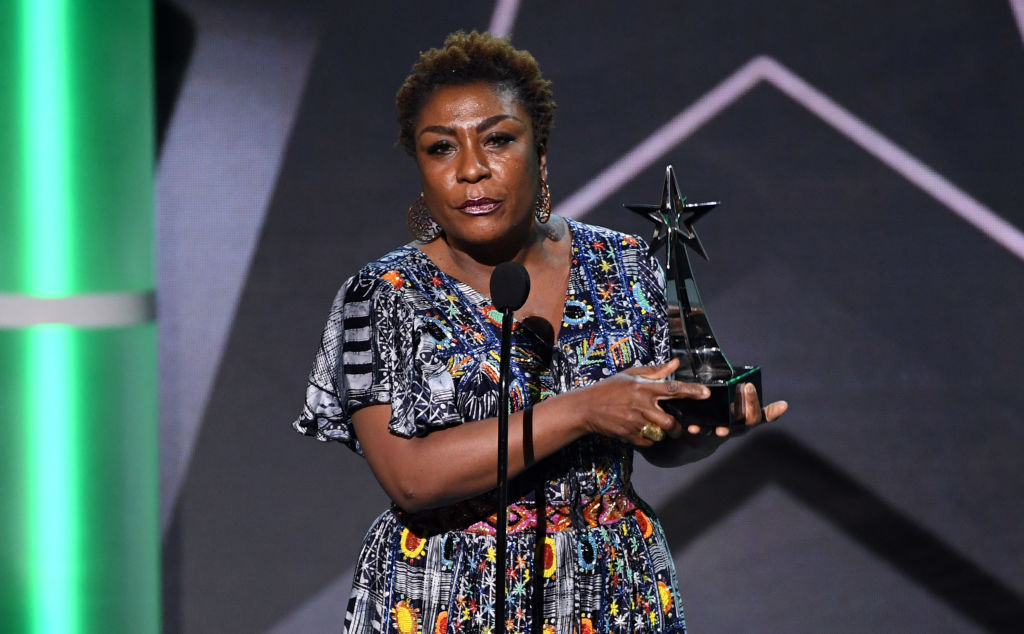 Mary J. Blige's iconic performance
Mary J. Blige received the Lifetime Achievement Award for her massive influence in the music industry and her performance later was nothing short of iconic! That intro by PDiddy, Lil Kim's appearance and Method Man's appearance too was everything!!!
All hail the Queen ampa!
When They See Us
One of the highlights of the night was when Korey Wise, Antron McCray, Kevin Richardson, Yusef Salaam & Raymond Santana were honoured and renamed the Exonerated 5. They were the young men whose emotional story was brought to life on the hit Netflix series, 'When They See Us'
See Also: The Real-Life Characters Of The Netflix Series, "When They See Us," Honoured At The 2019 BET Awards
Regina Hall's dope performance that heavily reminded us of Beyonce's Coahella set!!
We know Regina Hall isn't a singer but she just had to do something as the host of BET2019, and what better way to do it than with a tribute to her hometown, Washington DC. She, Sugar Baby and some point, Taraji performed E.U.'s Grammy-nominated 1988 hit "Da Butt", Rare Essence's "Do You Know What Time It Is?" and Chuck Brown's "Run Joe"
The Nipsey Hussle Tribute
We all know Nipsey Hussle was killed earlier this year and yesterday, BET honoured the late rapper with the Humanitarian Award and his partner, Lauren London and kids, his mother, Angelique Smith and his grandma, Samantha Smith went on stage to accept the Award on behalf of the legendary Nipsey Hussle. His mother gave a moving speech that definitely gave more strength to all the people who were still grieving for the rapper.
Marsai Martin's YoungStars Award!!
Yhup, just cos we are excited our favourite 14-year old won an award, you all need to see it too!! We fell in love with Marsai Martin when we watched her stellar performance on Blackish! Sis went ahead to spoil there, producing her first movie, Little, making her the youngest person to executive produce a studio film!
Tyler Perry's powerful speech about Black people!
Tyler Perry was honoured with the Ultimate Icon Award. Most of us know him as the writer, director and sometimes actor/actress of all those black American shows and movies that empower black people especially women and oh, of course, Madea!!!
Rihanna because…Rihanna!
Rihanna didn't do anything extra. She just presented the award to Mary J Blige but her tribute was spot on and well, it's Rihanna and everything she does is awesome so…watch her being cute!!!
If you missed out on the performances, we gotchu: Cardi B's Sexy Performance With Offset And All The Other Performances You Missed At The #BETAwards2019 Yesterday
And the red/blue carpet looks!! All your faves looking like spice: Check Out Your Favourite Celebs On The Red/Blue Carpet At #BETAwards2019 Yesterday!
You're welcome!!
If you have a story you want to share with Kuulpeeps and the world, please do hit us up on Facebook, Twitter, Instagram