Effective July 1, Ghanaians and Jamaicans can travel to and from each other's country without a visa!!
This decision was made after the presidents of the two countries held bilateral discussions in Kingston, Jamaica, on Saturday.
So, just because we are now adding Jamaica to our potential vacation spots, here's every reason you need to go to Jamaica!!
The Bob Marley Museum
Bob Marley is synonymous with Jamaica and it'd make no sense to go there without going to his museum. The museum is actually Bob Marley's former house and where he lived till he died. The museum features a well-equipped 80-seat theatre, a photographic gallery, a record shop and a gift shop filled with a wide array of Bob Marley memorabilia.
Firewater Pond
It's actually called The Windsor Mineral Spring but it's more popularly known as the firewater pond because of its unusual quality! The lake burns and is bubbly at the same time! You can either choose to watch the water spark up into flames and maybe, see the guides demonstrate how they cook on the water or you can take a dip in the burning water and get a healing massage from the guides in the water!!
Glistening Waters
This beautiful place can only be experienced better at night. It's a lake that just naturally glows. Apparently, there are only four of this kind in the world but this one in Jamaica is reportedly the brightest due to their consistent climate. The existence of phosphorous and microorganisms in the water is what makes it glow when any movement is made on the water.
Sunken Pirate City
Many years ago, this city in Port Royal in Jamaica was well known for the fun and booze they had. Some called it "the most wicked and sinful city in the world." However, in 1692, a massive earthquake occurred, destroying the city followed by a Tsunami that dragged about 33 acres of the city under the sea. You'd need special access from the government to dive in some restricted areas of the Port Royal ruins area. Most of the items recovered over the years can also be found at the Museums of History and Ethnography at the Institute of Jamaica in Kingston.
Rick's Cafe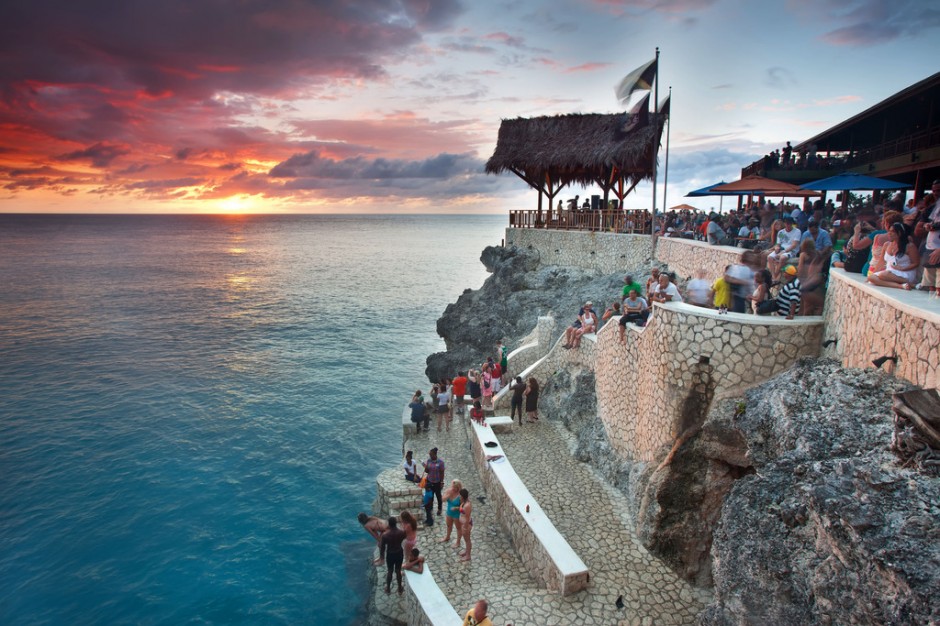 Rick's Cafe is actually a bar and restaurant but that's not what's important here. It's located on top of a 35-foot high cliff and all day long, you'd see people jumping off the cliff…not to their deaths but into the water below. The place also reportedly has one of the most beautiful and breathtaking sunsets and tourists go there all the time to drink, have fun and well..jump off the cliff!!
Swimming with horses
Yhup, in some places in Jamaica, there are horses that have been trained to swim so, guess what? You don't just ride the horses but you get to have a swim in the water with them, either by them or on their backs!
Blue Hole
If you're a good swimmer and love snorkelling, you should visit the Blue Hole lagoon which is rumoured to be bottomless! If you don't want to snorkel, Blue Hole has got clear, turquoise waters surrounded by a lush jungle that's reportedly extremely beautiful and breathtaking.  Lots of people too just decide to swing on the tree branches and jump into the water!
There's even more! The country boasts of so many beaches and now that our countries are making moves together, guess where we plan to go soon??