Ghanaian para-athlete, Raphael Botsyo Nkegbe has qualified for the Tokyo 2020 Paralympic games after winning the T54 World Wheelchair 100m race with a new personal best of 14.22s at the Desert Challenge Games in Arizona, USA.
See Also: Prempeh College Alumnus Joseph Amoah Becomes First Ghanaian Athlete To Qualify For The 2020 Olympics
His win in the T54 World Wheelchair 100m race has given him an automatic qualification to the Tokyo 2020 Paralympics and also makes him the first Ghanaian para-athlete to qualify for the world championships.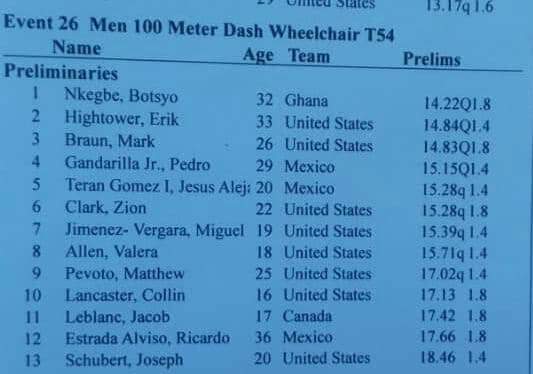 T54 is a disability sport classification for differently abled athletics in the track and jump events. The class includes people with spinal cord injuries who compete using a wheelchair in track events. They have paraplegia but have normal hand and arm function, normal or limited trunk function, and no leg function.
If you have a story you want to share with Kuulpeeps and the world, please do hit us up on Facebook, Twitter, Instagram