We can all attest to the fact that breakups are horrible! What is more important is how you deal with them. Who do you become after a breakup? From the "Please don't leave me beggar" to the "World class stalker", here are the different people after a breakup.
1. The Stalker
You need to check and see if your ex is suffering like you are. Is he moving on? Has he already found another person? If he likes someone's picture on IG it's just right that you go check the person's page out… right? Just so you're sure they're just friends.
2. "Please don't leave me" beggar
We hope and pray you aren't this type of person! You keep calling your ex to ask them to take you back. Even if they were the ones at fault, you're sure you'll get over this "rough patch". Bruh! Have some dignity cuz this attitude is lower than you charley.
3. The Depressed One
As for you de3, you keep looking like you carry all the problems in the world. You sometimes try rebound sex but it doesn't work. Brother or sister in the Lord, if you do not try and get out of this depression on your own, no one can pull you out.
4. The Overeater
You eat ice cream from the tub, have midnight snacks, get foods that your ex loved and eat 'em all by yourself. Eating is supposed to make you feel better. But it doesn't.
5. Rebounder Ooooohh! You de3 all you need is another sexual partner; once or twice and you'll be fine kraaaa.  No long things.
6. The Indifferent One
You do not look like someone whose world has come crashing down. Lol. You don't care kraaa… there are many fishes in the sea. If they've left you, you can find someone whenever you want.
7. The "Feminist"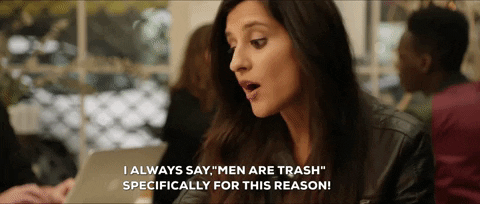 Ei if you're a guy and come across these fake woke feminists de3 unless they don't kill you. Everyday screaming men are trash when it was only your man that was trashy abeg!
Lmao! Which of these are you?
If you have a story you want to share with Kuulpeeps and the world, please do hit us up on Facebook, Twitter, Instagram