Anyone who owns a TV set should know Johnnie Hughes.
If you don't, then you're not using your TV right.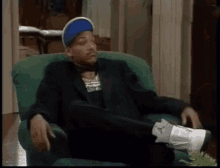 Johnnie Hughes is the co-host of TV3's New Day.
He also hosts the Community Connect show on 3FM 92.7. Johnnie Hughes describes himself as a very happy person who likes to help people to the best of his ability.
He's also very enthusiastic about society and hopes to see it get better. Johnnie Hughes clearly loves his job and the only thing that made his smile wider than he already does, talking about TV3 was Bands Alive.
Bands Alive used to be a show on TV3 where different bands competed to be the ultimate band and yhup, Johnnie Hughes was a member of one of the bands that competed in 2008.
"I used to go to the studio to record voice-overs for Ben Verge at Zongo Junction towards Radio Gold. That was how I was making ends meet. Around that time, TV3 and Gama advertised for bands to come forward and compete and the people at the studio thought that I could sing so Ben picked up a form, put together a band he already had and then put me in there as the lead singer."
For someone who didn't even think he could sing and had to spend hours watching Louis Armstrong videos to practice for Bands Alive, Johnnie Hughes and his band made it through the auditions, became a part of the 52 bands chosen, emerged 2nd in the competition and made a contact that would lead to him finally being where he is today.
"There was one week where we had to do our own composed song and KKD was the compere (MC) for the night. On this occasion, we did the Louis Armstrong song which was 2 minute 16 seconds and perhaps, he assumed that this was another 4-minute song. He didn't expect it to be so short so he was conferring with George Bosompem who was the producer for the show and when the sound ended, he couldn't cross the camera to come on so he just signalled me to go ahead and I did! I did the intro for the next song and finished it. When we closed, he gave me his number and that's where my training began. He gave me my first TV opportunity on GTV…one thing led to the other and here I am today."
Johnnie Hughes has been with TV3 for almost four years now and it's obvious how excited he is about that. He revealed that the goal has always been to work with TV3. It was a long journey but he made it!  Johnnie Hughes did such a great job starting his TV3 journey at 3FM after being noticed by Max Fugar while he was at TV Africa, that he was given other roles at TV3, prominent among them being the co-host of TV3 New Day and hosting Ghana's Most Beautiful pageant on TV.
Johnnie Hughes boasts of having a connection with his audience like none other. It's not surprising as he's extremely eloquent and has a way of connecting to people, building strong relationships with his audience. When he's not working at TV3, he enjoys MC-ing at weddings and corporate events, something he used to do way before he even started working in media. He's an exceptional actor as well if you've seen him in the TV series, Sadia. He also proofreads people's books, sings at church and loans his PR expertise to friends and family who need them.
He's a family guy who loves spending time with his mum and wife and swears his mum makes the best palm soup in the whole world! He explained that family is important to him and growing up, his parents allowed him to explore wherever his passion led him and there was so much love around him that made him feel very special.
"My dad was the Head of Industries Projects And Development of the Ghana Prisons so many of the public edifices that you have around was constructed by my father and there are fond memories of riding in his Nissan Patrol PS5 with a flag in front and with a motorcade in front and they are paving way for you and you get to school and everybody is looking at you like the son of a hero, I still have nostalgic memories"
You should follow him on Facebook, Twitter, and Instagram.
If you have a story you want to share with Kuulpeeps and the world, please do hit us up on Facebook, Twitter, Instagram