Do you think you're really a true fan of your favourite celeb? What if we told you that what you thought was their name really isn't their real names? Uhuh.
Most of their real names would definitely surprise you and you wouldn't even know how to pronounce them. Their stage names chosen for effect, designed to turn a humdrum and everyday moniker into something with a bit more sparkle and pizzazz.
From Bruno Mars to Prince Harry, here are some celebrities and their real names.
1. Bruno Mars
Real Name: Peter Gene Hernandez
The singer was nicknamed Bruno for the cutest reason: because he was a chubby baby. He explained to Rap Up, "Bruno is after Bruno Sammartino, who was this big, fat wrestler. I was this chunky little baby, so my dad used to call me that as a nickname. Mars came up because a lot of girls say I'm out of this world!".
2. Gigi Hadid
Real Name: Jelena Hadid
"In first or second grade, there was a girl named Helena and it got confusing with the teacher who had to call out our names, and so the teacher asked my mum, 'If I needed to call Jelena a nickname, what would it be?' And my mum was like, 'I call her Gigi sometimes,' and the name stuck." she explained to Style.com.
3. Meghan Markle
Real Name: Rachel Meghan Markle
According to recent reports and the official name on her IMDb page, Meghan is her middle name – Rachel is her first.
4. Prince Harry
Real Name: Henry Charles Albert David
Harry is actually just a nickname, as proved by the official engagement announcement on the Prince's website, www.princehenryofwales.org, which read "Prince Henry of Wales & Meghan Markle are engaged to be married."
5. Emma Stone
Real Name: Emily Jean Stone
"Well, I was 16 when I found out at SAG [Screen Actors Guild] I couldn't have my own name," Emma explained to W magazine. ""I had the option of Emily J. Stone and it's kind of like Michael J. Fox, and I love Michael J. Fox, but I don't think I could pull off the J. So then I changed it to Emma because you know it's closer to Emily, but most people call me 'M,' that know me well."
6. Katy Perry
Real Name: Katheryn Hudson
Perry adopted her mother's last name to avoid being confused with actress Kate Hudson.
7. Kit Harington
Real Name: Christopher Catesby Harington
Harington didn't know his real name was Christopher until he was 11 years old. "I think they could see that I wanted to be Kit, but Christopher was a bit of a tradition," he explained to Glamour. "My brother's name is Jack, but his real name is John. Kit is traditionally an offshoot of Christopher, it's just not used that often. My middle name is Catesby."
8. Iggy Azalea
Real Name: Amethyst Amelia Kelly
She had dog who died due to a snake bite and she got a name-plate necklace made in his honour. Everybody started to think that her name was Iggy so it kind of became my nickname and she took it on board and started rapping with it.
9. Lady Gaga
Real Name: Stefani Joanne Angelina Germanotta
Way back in 2010, Gaga revealed in an interview with Flybe magazine that music producer Rob Fusari (who also happened to be her boyfriend at the time) was the first to call her Gaga because her voice and style reminded him of the song "Radio GaGa".  She added Lady to Gaga because she went to a private school but now she was living in trash glitter environment. So, for her, it was the perfect description of who she had become.
10. Julianne Moore
Real Name: Julie Anne Smith
Moore's given name was too popular in actors' unions, so she created a mash-up of her other family members' names. Her dad's name is Moore and her mum's name is Anne so she just added the Anne to her Julie and used her dad's name as the surname. That way, she didn't hurt anyone's feelings. Genius right??
11. Nina Dobrev
Real Name: Nikolina Konstantinova Dobreva
The actress simplified her Bulgarian birth name quite a bit to make things easier en route to stardom.
12. Jean-Claude Van Damme
Real name: Jean-Claude Camille François Van Varenberg
Obviously, people couldn't mention his name properly so he gave it a makeover.
13. Prince
Real Name: Prince Roger Nelson
Prince routinely experimented with his name. At one point, he adopted a symbol as his official moniker and called himself The Artist Formerly Known As Prince. Other names the late musician used over the years include Jamie Starr, Joey Coco, and Alexander Nevermind.
14. Cardi B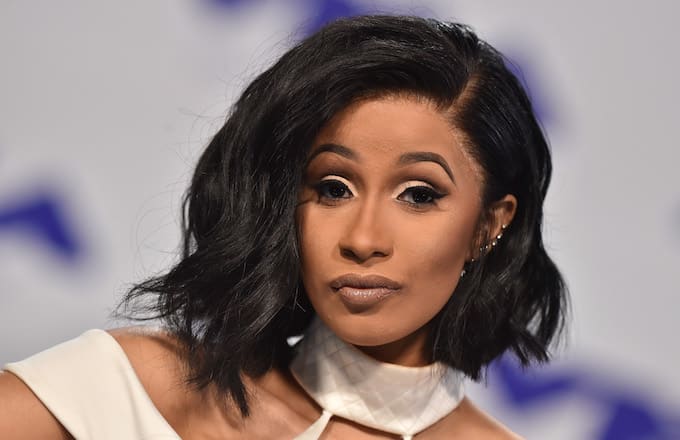 Real Name: Belcalis Almanzar
Although we know her as Cardi B, true fans know that the musician was actually given a much longer name at birth: Belcalis Almanzar. Cardi B is actually short for Bacardi, like the rum.
15. Blake Lively
Real Name: Blake Ellender Brown
Blake's dad Ernie Brown decided to break with tradition, and after meeting and falling in love with Elaine Lively (Blake's mum), he opted to take her name on their wedding day. But when Blake was born, she was registered legally as Blake Brown, and was known as Blake Brown by school authorities and state officials. The actress later followed in the footsteps of her father, and took on the Lively name.
Who's name isn't on the list so we fish out their real names!?
If you have a story you want to share with Kuulpeeps and the world, please do hit us up on Facebook, Twitter, Instagram