Death is inevitable.
Whether you like it or not, some day, death will come knocking and when it does, you'd have to answer.
Now it's very common that when you're a celebrity, the minute you die, people are going to make it a point to go through your whole life's work and it's sometimes unsettling the kind of things you end up stumbling upon!!
These are a couple of musicians who were not just amazing artistes but may have been psychics as well!!
Yeah, be like most could sense they were about to die and announced it subtly before it even happened.
Tupac Shakur

Tupac is a legend and is constantly referred to as the greatest rapper alive. His death shocked many people and even though there's a lot of mystery surrounding his death, Tupac, before he died was featured in a song, "Niggas done changed" with Richie Rich and rapped "I been shot and murdered, can tell you how it happened word for word."
Doesn't end there.
In 1996, he filmed the music video for his song, "I Ain't Mad at Cha" which depicted him in the afterlife, communicating with his loved ones and… just a few weeks later, he was shot in a drive-by in Las Vegas.
But…there are people who believe his death was staged and he may still be alive.
John Lennon
The singer, songwriter and co founder of the Beatles' death was another shocker but…he may have seen it coming. Before he died, he recorded a song titled "Borrowed Time" where he sang "Living on borrowed time, without a thought for tomorrow"
Well, he never saw the "tomorrow' of that song and died before it even got released but everyone got the 'whoa' moment after the song was released posthumously.
Notorious B.I.G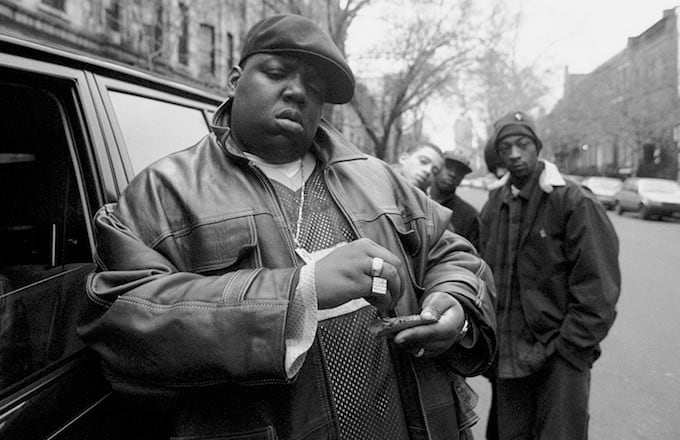 It's rumored the rapper was killed in retaliation for Tupac's death but that's not the point right now.  Biggie may have predicted his own death when he said, "I'm glad I'm dead… I swear to God I feel like death is f**king calling me." on the song "Suicidal Thoughts". Well, death called him alright not too long after that when he was shot dead in a drive-by.
Bob Marley
Bob Marley was considered a prophet by his friends because they claimed he predicted a lot of events that came to pass. They say he often said that he will die at age 36 and when asked why? He said Jesus also lived till his 36th year. Bob Marley died from a type of skin cancer in 1977 but there are people who hold the belief that he was killed by the CIA because of his influence in Jamaican politics.
Kurt Cobain
Kurt Cobain was an amazing singer and lead of the rock band, Nirvana. Reportedly, when he was only 14, Kurt Cobain told a classmate that he would become a superstar, get rich and famous, and then he would kill himself, going out in a blaze of glory.
Kurt did exactly that after becoming a famous sensation!
He did shoot himself and left a suicide note that read: "I have it good, very good, and I'm grateful, but since the age of seven, I've become hateful towards all humans in general….Thank you all from the pit of my burning, nauseous stomach for your letters and concern during the past years. I'm too much of an erratic, moody baby! I don't have the passion anymore, and so remember, it's better to burn out than to fade away."
XXXtentacion
The rapper died this year with the video of his shooting going viral on social media. After his death was confirmed, fans drew everyone's attention to a video he posted on IG earlier this year saying "Worst thing comes to worst, I f*cking die a tragic death or some sh*t, and I'm not able to see out my dreams, I at least want to know that the kids perceived my message…"
See Also: Here Are Shocking New Details About The Murder Of Rapper XXXTentacion
That's not all.
His video for his song SAD showed him, attending his own funeral…
Jimi Hendrix
The iconic rock guitarist and singer choked on his own vomit while intoxicated but before that happened, 5 years ago, he recorded a song "The Ballad of Jimi." which had him singing these words: "Five years, this he said. He's not gone, he's just dead. Many things he would try, For he knew soon he'd die. Now Jimi's gone, he's not alone. His memory still lives on."
At the beginning of the song, he stated that the song is dedicated to his best friend but…was his best friend was also called Jimi???
Creepy huh?
If these are cases of 'words carry power' then…
"we are going to be super rich and live forever"
If you have a story you want to share with Kuulpeeps and the world, please do hit us up on Facebook, Twitter, Instagram