We have been calmly waiting with our expectations for Kweik's EP, Drunk Texts and Confessions and we were not disappointed.
He dropped the 7 track EP this morning and that's all we've been listening to all day.
Although he's dropped some singles and worked with big names like Wanluv and J-Town among others, this will be his first EP/album and for a first, he's done a pretty amazing job! We love how he gave us time to properly feel his music and style with not too many 'guests' to overwhelm us and draw attention away from him.
This EP is a refreshing piece with a beautiful afro music vibe which is a pleasant surprise because, to tell the truth, seeing the tile of the EP, "Drunk Texts and Confessions" kind of made us anticipate a serious hip-hop vibe but the kind of message we expected did not disappoint! Kweiks teased a guy for snatching his girl bragged about how the girl just dey make him 'feel tings' on the first track, Jon.
Warning: if you've ever had your girl snatched from you, do not listen to this song cos you go bore!
On the next track, African Girl, he doesn't just talk about his love for African girls but actually finds a way to pour Africa into the song. The rhythm, his voice, the beat…everything just envelopes you and gives you a 3-minute feel of African vibes that immediately puts you in a good mood.
Y'all heard the saying "If it's nice, do it twice"?Well, Kweiks featured Kojo Cue on 'Carry Away' on the EP and on the same EP, he has a remix of this very track but this time, featuring YN the Afropikin.
For the fans, there's an old fan fave from last year, a single he dropped titled 'Bad (Friends With benefits)' and we also get treated to some great bars on 'Flowers for Men', a blend of the afro feel and some hip-hop vibe. Oh and 'Drink the Night' is a perfect representation of  "life's too short, you cannot kill yourself"
See Also: Kweiks' "Bad" Defines Anyone With Friends With Benefits
It's tough to find something wrong or off about the whole Kweiks project. From the individual tracks, the flow, features, down to the cover art…everything is so so dope and you need to cop one.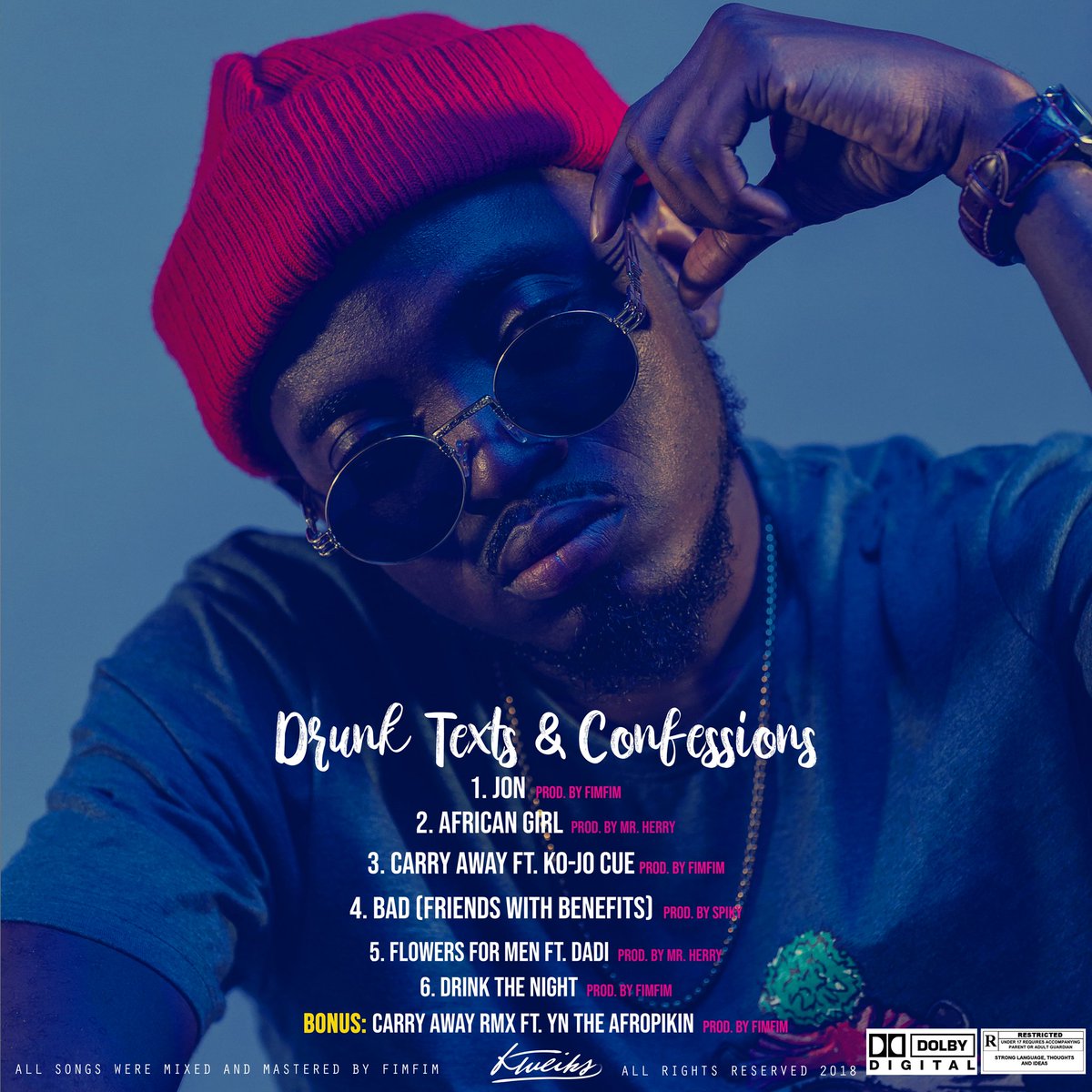 Follow him on Twitter, Instagram, and Facebook and check out more of his songs on iTunes and Soundcloud and buy the EP on iTunes and on Aftown
If you have a story you want to share with Kuulpeeps and the world, please do hit us up on Facebook, Twitter, Instagram