Bryan The Mensah has been impressing us over and over again and we are so overwhelmed but be like he wants to kill us with enjoyment as he announced officially, last week that there'd be the first ever Bryan The Mensah concert!
He released his second music project, Wildlife EP just last month and it's only fair that we jam to the work of a genius…together!
So, yeah…take your calendar and make a huge red mark on the 17th of November and make arrangements for transportation to the Dzorwulu Sid apartment cos that's where all the lituation will take place.
Just to be sure that you are extra prepared, why not get your tickets now so you don't miss out?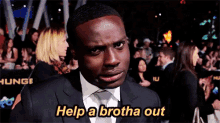 You can get your tickets conveniently from the BryanTheMensah site or Ego Tickets and the tickets are pretty affordable!!
You can go for the regular ticket price which is going for GHS30, the special discount for your squad (you and three friends) going for just GHc 95 cedis and the ultimate deal: GHc 50 for a ticket and a free Wildlife cap because what's a concert without its merch?!
They are pretty dope huh? Do wild let's live the Wildlife!
Yeah…we cool like that!
If you have a story you want to share with Kuulpeeps and the world, please do hit us up on Facebook, Twitter, Instagram