If you are a "seasoned" natural then you are familiar with that ugly "s" word —shrinkage!!! And if you've been natural long enough—you know that shrinkage can be cray!
It can rob you of hard-earned inches! You understand your hair could shrink up to at least six inches (probably more… I don't have a tape measurer otherwise I probably would check). One thing all natural girls have in common is they hate it… a lot. Especially because you want your hair to look longgg. Shrinkage is one of the most frustrating natural hair issues on the planet.
At about this point we could get into a lecture session wagging our fingers at you telling you that shrinkage is just a part of life as a natural haired woman and so you have to learn to embrace it, but nerhh; here are three ways to get rid of the shrinkage and ultimately breakage.
 Blow Dry Your Roots.
After washing your hair, allow it to dry about 85%.  Lightly tug on your hair and blow dry the roots on medium heat.   Don't blow dry them straight, just enough to stretch your hair a little and give it a tad bit of length.   This method is quick, easy and it works wonders!
Complete Blow-Out.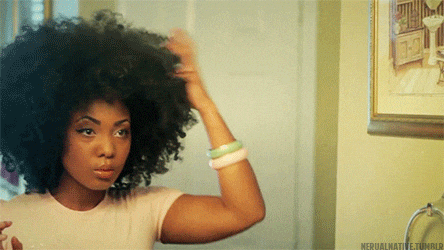 If you don't mind using heat (in moderation) and want to show off your length, you may want to consider a blowout.  This method may give you maximum length in that it straightens your natural curl pattern temporarily.  Make sure that when doing a blow-out, you deep condition and use a heat protectant.  Also, use this method in moderation.
Put Your Hair in a High Bun.
Another way to stretch your hair is by putting it in a high bun when it is slightly damp. Secure the bun in place with a ponytail holder.  This will stretch the curls and give your hair a little more length.  Try wearing the bun for an hour to an hour and a half and take it down.  Make sure the bun is tight enough to pull your hair and loose enough as to avoid creases.
Shrinkage comes along with the natural hair journey.  It is inevitable and just about every natural diva will experience it at some point during their journey. So then stress. Try these out and let's see you rock your afro
If you have a story you want to share with Kuulpeeps and the world, please do hit us up on Facebook, Twitter, Instagram or on WhatsApp (0500-002686).