Childish Gambino released a new song and video yesterday. The video "feels like summer" just like his "This Is America" video has sparked a lot of conversations for fans but relax, this video is less controversial. The video is full of cameos and we broke them all down for you! Enjoy!
Lil Pump and Trippie Redd
Lil Pump and Trippie Redd are seen as kids in the video. They get shooed away by 21 Savage who's busy sharing a blunt in his car with Metro Boomin.
Kodak Black
Kodak seems stuck in his house. He's seen shaking his head at the two kids knocking at his door cos well, he can't come out. This is probably in reference to Kodak being in jail.
Migos
The rap trio can be seen playing basketball in the hood.
Birdman, Chance The Rapper and Jaden Smith
Birdman is pictured grilling while Jaden in a superhero suit keeps Chance entertained
Will Smith and Azaelia Banks

Will Smith, not far off is busy washing a car while Azaelia Banks is right above Will, swinging her legs on the branch of a tree.
Nicki Minaj and Travis Scott
Nicki builds something wth some blocks and Travis pulls one block from the bottom, causing the blocks to topple over. Is this in reference to Nicki's beef with Travis just because he snagged the number 1 spot on Billboard Top 100.
The Weekend, Ty Dolla $ign, Frank Ocean, Solange Knowles, A$ap Fergie
The Weekend, Ty Dolla $ign and Frank Ocean play Tug of war with Solange, A$ap and Willow Smith
Soulja Boy
Soulja Boy tells the kids a story
Drake and Future
Future cycles by while Drake tries and fails to catch him.
Kid Cudi
He's just, there.
Kanye West and Michelle Obama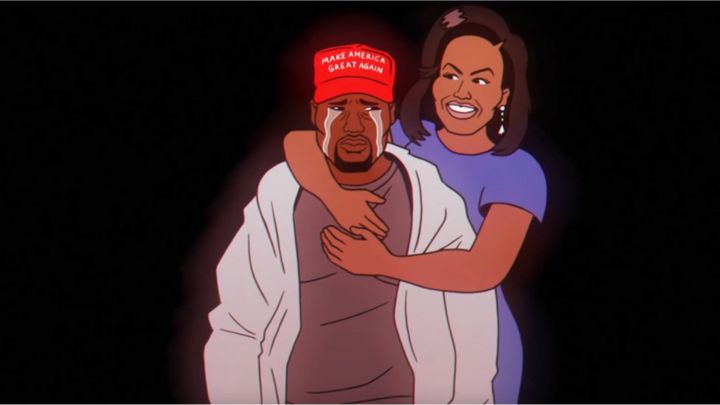 Kanye's crying and Michelle Obama comes in to hug him. The funny thing is, Kanye's wearing a "Make America Great Again" cap. Remember the Kanye support for Trump issue?
Beyonce
Beyonce's in a 'R.I.P Fredo Santana' shirt. The young rapper who died earlier this year.
Shannon Sharpe and XXXTentacion
Looking for X? Yeah he's the ice cream. and maybe, the ice cream melting could be a metaphor for X's death.
Lil Uzi Vert, Oprah, Tiffany Haddish, Kehlani
Oprah braiding Lil Uzi's hair, Tifanny's braiding Kehlani's. Cute huh?
Charlamagne and Lil Yachty
Both of them are on a bench, eating ice cream
Gucci mane Dr.Dre, Jay-Z, Snoop Dogg, Wiz Khalifa, and Diddy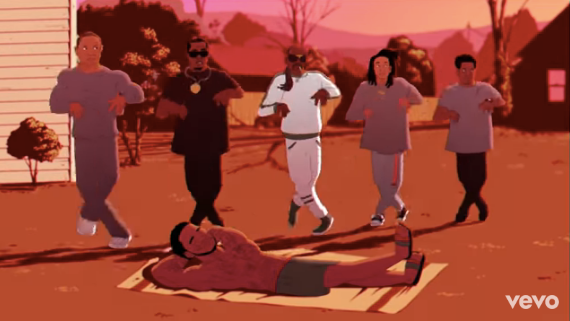 Gucci's chilling on a mat while the others dance the elctric slide behind him.
Young Thug and the Ball brothers
2 Chainz, Meek Mill, Lil Wayne, Pusha-T
2 Chainz takes a selfie of Meek, Weezy and Pusha-T
J.Cole and Rae Sremmurd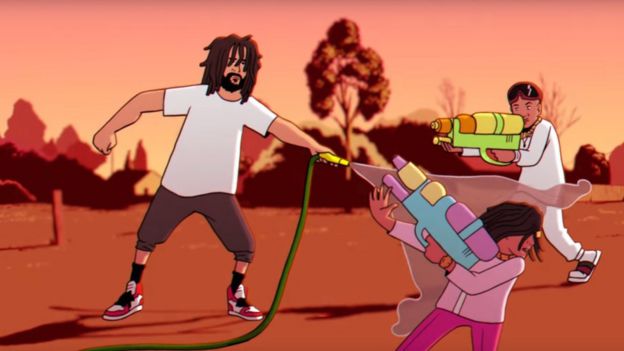 Rae Sremmurd run around shooting water out of their water guns at J.Cole who retaliates by pouring water from his hose at them.
Janelle Monáe and Sza

Chris Brown
Why's Chris Breezy like that tho?
OutKast
Remember outkast?
Rihanna
Whitney Houston
Micheal Jackson
Back in his Jackson 5 days when he had the fro on.
Now that you've seen them all, watch the video so you can enjoy their cameos even better!!

The video was directed by Donald Glover (aka Childish Gambino), Ivan Dixon and Greg Sharp.
If you have a story you want to share with Kuulpeeps and the world, please do hit us up on Facebook, Twitter, Instagram